This is a guide on how to start a profitable blog from scratch the easy way! A lot of people start a blog for fun but many other choose to start a blog to stay home so they can quit their jobs. Either way, here is a super informative post on how to create a super easy blog for beginners!
When I first started my blog, I was so nervous! I am definitely not tech savvy so the idea of building a website was extremely daunting, but you know what? It's way easier than you think! If I can do it, pretty much anyone can.
Thanks to modern day tech, it's actually pretty simple to start a website, it just takes a bit of practice. If you are interested in starting a blog to replace or supplement your income or even just for fun to document your passions, I'm here to show you how, step by step!
This post contains affiliate links, which means I receive a small commission at no extra cost to you, if you make a purchase using that link.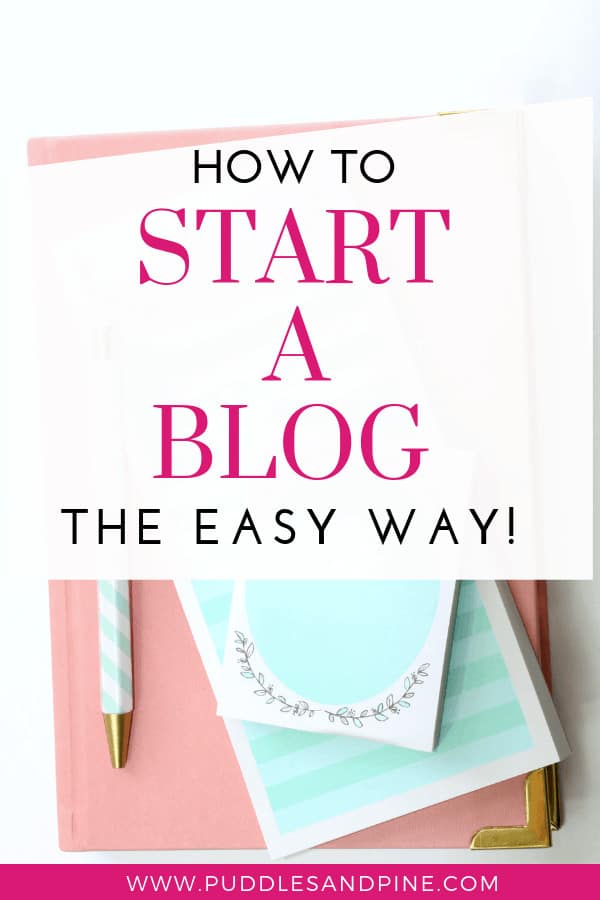 SELF HOSTING OR FREE PLATFORM?
There are certainly free platforms like Blogger where you can sign up for a website for free, which is awesome if you just want a website to show your friends and family and you are just blogging for fun. But you cannot make money on a free platform and you don't have much of a say over what to do with your site, so I highly recommend self hosting.
The platform that I use and recommend is Bluehost. They are great for beginners, affordable and you get a free domain name! Hosting with a platform like Bluehost is basically like paying them rent for your space on the internet. It's only $3.95 a month so it's incredibly low rent, you just pay it all up front for however long a term you choose. This is the only amount of money you need to put into your site before you start making money so it's really not bad.
FIRST OFF…
You need to determine what you are going to be blogging about, what is your passion? You don't want it to be something you don't have a passion for because it's hard to be successful when your heart's not really in it. What is something you absolutely love to talk about to your friends, family, random person on the street? If you love to cook/bake then awesome, start a cooking blog! If your kids are your life and you love giving advice on parenting, start a parenting blog. If you love to travel and have lot's of advice and tips for others interested in traveling, start a travel blog. The possibilities are endless, just keep in mind what comes with each type of niche. For example, if you want to start a cooking blog, I recommend taking a class in photography or at least delving a bit more into that area because great pictures are crucial when trying to show off your latest creation.
CHOOSE A NAME FOR YOUR BLOG
This might be the hardest part of this whole process because once you've chosen your name it's really hard to change it. You want to make sure it's relevant to your niche but not so specific that you can't ever branch out into a new topic if you choose to do so. So don't choose a name like "Yummy Recipes with Susan" if you think you might want to talk about fashion as well as cooking. However if you are positive that you want a very specific type of blog then by all means, name it after your niche.
CHOOSE YOUR HOSTING
There are several hosting options out there but my best recommendation is Bluehost for the reasons I stated above as well as the fact that they are extremely user friendly, which is great for those of us that aren't the greatest with tech. Plus with Bluehost you will receive technical support if you run into any problems and they have a 30 day money back guarantee if you decide blogging just isn't for you.
How To Start A Blog The Easy Way
I'm going to lay out the steps on how to start a blog using Bluehost because that is what I have experience with and it is really is the easiest way.
1.PICK YOUR PLAN
If you would like to sign up with Bluehost, you can Click Here. You will need to click on the "Get started now" button. You are going to get three options: Basic, plus and pro. I recommend the basic for beginners because that's really all you need unless you already have a massive following from a previous platform which you most likely won't.
2. CREATE AND REGISTER YOUR DOMAIN NAME
This is where you will be choosing that name we talked about earlier. It's ok to take several days to figure that out before deciding, just make sure you love it.
Once you click next, they will tell you if your name is available or it is has been taken already. Sometimes you just need to tweak it a little bit to get one that's available but try your best to get something unique so it is not mistaken for another site. You want your readers to know where to find you.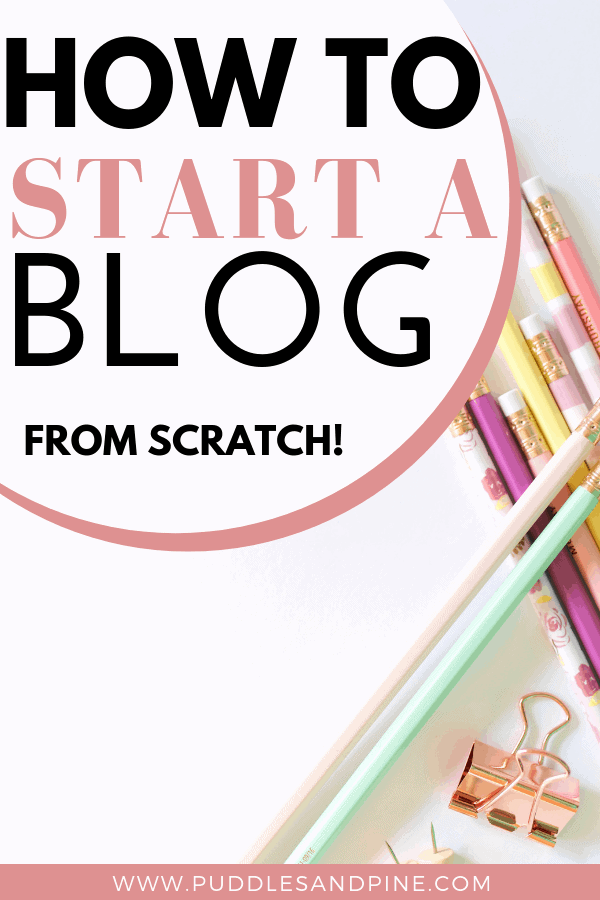 3. PURCHASE
Scroll down to the "package information section after you create your account and choose how long of a term you want your hosting for. Bluehost offers 12, 24 or 36 month plans and it is usually more cost effective to choose the longer plan but choose what is right for you. If you are serious about making money from your blog I highly recommend a longer term because sometimes it can take a while to get your site off the ground and if your term is up around the same time you start feeling discouraged, it is way too easy to give up altogether.
Right below this section are a few boxes with check marks that are optional add ons. They aren't necessary for your site but the one I do recommend is the domain privacy protection. This will keep your personal information hidden so you don't get spammed and you just don't want that information out there for everyone to see.
Next you are going to put in your payment info and then you will be asked to create a password.
4. ALMOST DONE
After you have purchased your site, you will be asked to pick a theme. That is very important for your site but you don't need to pick it now. There will be plenty of time to pick a theme and that's something you're gonna want to think about once you know how you want to style your site and different themes will go with different niches. I recommend just continuing to the next section for now.
So now you want to click "Start Building" and you will be taken to the WordPress dashboard. This is where you will build your site!
That's it! You have officially created you website. You are now free to start writing posts and designing your site however you want to.
NOW WHAT?
Well now that your website is ready to customize, you're probably thinking "now what?". WordPress is very simply to navigate but I know it can seem complicated at first, so I'm gonna walk you through the process of actually setting up your site as well.
DESIGNING YOUR WEBSITE
SET UP YOUR THEME
If you hover over "Appearance", you can click on "Themes" to change how your blog looks. You can choose a free theme or you can purchase a theme that looks a bit more professional. You can change this at any time so there is nothing wrong with choosing a free theme for now if you are on a tight budget. I personally recommend Astra as a free theme, it's very customizable and user friendly so it's great for a starter theme.
2. SET UP YOUR MENU
If you hover over "Posts" and click "Categories", you can create the categories for your site. For example, for a cooking site the categories might be "Breakfast recipes", "Entrees", "Desserts", etc. These are going to be the main topics you write about. You can arrange them however you like by hovering over "Appearance" and clicking on "Menu".
3. CREATE YOUR FIRST POST
Time to start writing! Hover over "Posts" and click "Add new" to create a new post. Don't forget to assign it to the right category when you are done, which you can do on the sidebar.
4. ADD IMAGES
Go to the "Media" tab to add an image to your blog. Images are extremely important to any blog because they catch your readers eye and will make them want to read your content. To add an image to a post, just click "Add media" from the new post page.
5. ADD PAGES
Click on the "Pages" tab and here is where you can create pages like your bio/About Me (very important), contact forms, privacy policy. You can also add your "About Me" to your sidebar by hovering over "Appearance" and clicking on "Widgets".
6. PLUGINS
Plugins will make your life so much easier as a blogger. They can do things like track your traffic stats, add social media buttons so your readers can share your content on social media, run added security, etc. some plugins I recommend for beginners are Yoast SEO (this one helps optimize your posts for search engines), WP Super Cache (this plugin helps speed up your website), UpdraftPlus Backup/Restore (this lets you manually backup your site in case it crashes) and Akismet Antispam (this one prevents spam from showing up in the comments or your posts).
7. FINISHED!
To see what your website looks like, just click on the house icon in the upper left corner. Congrats, you now have your own blog! 
If you want to learn how to monetize (make money) your blog, click HERE!