Starting a blog can be nerve-wracking especially when you want to quit your job to start a blog! Whether you want to replace your income with a blog and completely work from home or just want to supplement your income with blogging, the steps are the same. You need to learn to monetize your website and I've provided the main ways you can do that.
   One of the most rewarding ways to make money from home is blogging. It is a ton of work and is definitely not a get rich quick scheme, but when you make that first dollar it all becomes worth it When I first played with the idea of blogging, my main motivation was to document what I have learned about skincare, essential oil recipes and DIYs to reference back to and to share with friends and family but it eventually turned into something a lot bigger. I realized that I could also use my blog as a tool to help support my family! From the moment I became a mom, I knew I wanted to be able to stay home to take care of my boys. I knew I wasn't one of those moms that thrives as a working mom, I would be miserable not being able to stay home to raise my kids. So I delved into the research of how to monetize a blog and I found A LOT. There are so many resources for monetizing websites that it's incredibly overwhelming but also very worth it to know that it is a legitimate way to make money from home.
   I'm not gonna lie, all of these require some work. Blogging is not just a few posts thrown up and hope for the best that people find it and buy stuff. It requires a lot of late nights and sneaking away during movies and nap time. There are times I've had to sit on the bathroom floor with my laptop while the kids were taking a bath because building a blog and monetizing it takes work and a lot of patience. You just have to remember what your end game is and know that you will eventually reap the benefits!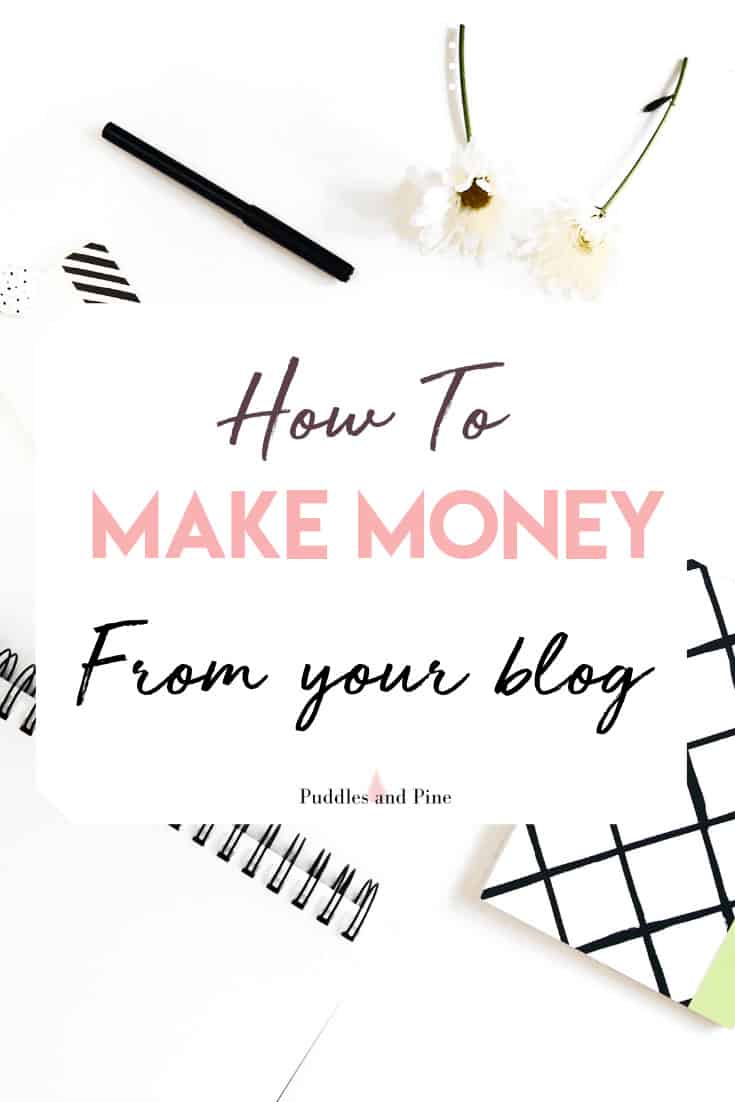 There are 4 main ways to make money with a blog
There are a few different ways to make money through a blog. The ways I will be going through are affiliate income, sponsored posts, advertising and services/products.
Affiliate Income
This one is my personal favorite because by using affiliates you are creating a passive income, which is literally like making money in your sleep! When you become an affiliate with a company and post your unique link to a product from that company, you will make a small commission whenever someone uses that link to make a purchase. What's great is most large companies have affiliate programs so there are a ton of opportunities. All you have to do is google "[insert company name here] affiliate program" and you will most likely find one. My personal favorite is Amazon!
Sponsored Posts
Sponsored posts are essentially like a review. A brand may pay you a varied amount to review and write a post about their product whether it's good or bad. If you become pretty successful in the blogging world then sometimes companies will reach out to you and ask you to write a sponsored post but more often, especially as a beginner, you will need to reach out to the brand of the product you want to review and ask to write a sponsored post. Sometimes they will offer the product for free in exchange for a review, other times they may also offer payment as well.
Advertising
Advertising is one of the most common and well known ways that websites can bring in income. It also requires a lot of traffic to make a significant amount of money so it can take more time to actually bring in income. One of the most popular platforms for advertising is Google AdSense but they only pay pennies per click so, again, it can take a while to see it working but it is another form of passive income.
Services or Products
Last, but not least, is selling your services or a product. If you have a skill in something like graphic design, photography, consulting, life coaching, nutrition advice, etc. Basically anything you could do over the internet or a phone call, you can monetize that! Or maybe you are an author and want to sell an ebook or you could sell a physical product if you don't mind the added process of shipping. This category is really endless, it just requires some creativity.
I hope this helped answer some questions on monetizing a blog! If you want to take the plunge and start your own blog, you can find instructions on how to do that HERE.
xoxo, Brianne