Legit work from home jobs for stay at home moms!  
 Being a stay at home mom can come with it's challenges, finances being a big one. I've compiled a list of real ways to make money from home. I have personal experience with many of these and they are real ways to make money online for moms or for anyone wanting to work from home. Keep reading to find out how to make money as a stay at home mom!
  Searching for legitimate work from home jobs can be a real headache, especially when you really need a bit of extra cash and you will do just about ANYTHING to bring in a little bit of extra income. Trust me, I've been there.
   Or maybe you are working a stressful 9 to 5 and you're desperate to quit your job and work from home instead. That's when you start looking for side gigs that can help bring in some extra money, but everything either looks too good to be true (and usually is) or is a scam.
 There's good news!
The good news is, there are real jobs out there for real moms. There are actually tons, ranging from customer service call centers to data entry to MLM companies.
I wanted to compile a list of legit work from home jobs that I have personal experience with, know someone personally with experience or I have very thoroughly researched. So let's jump in!
This post contains affiliate links, which means I receive a small commission at no extra cost to you, if you make a purchase using that link.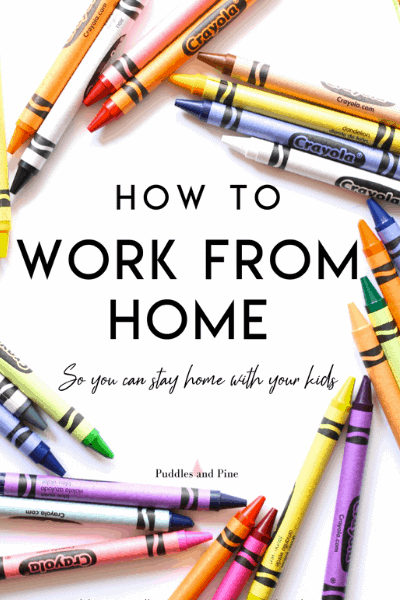 How To Make Money As A Stay At Home Mom
1. Start A Blog
   Even though it's not a "job" exactly, it certainly requires hard work. It's listed as number one because it's the most flexible job on this list. You set your own hours and depending on how much work you put into it, there is a potential to earn a limitless income.
   In my opinion, blogging is the best job for stay at home moms because you completely control everything. You decide how much you want to work and you can go completely at your own pace. I usually do most of my work in the morning before my kids are up and at night after they have gone to bed.
   There is definitely a learning curve that takes time and there are a lot of late nights and sneaking away when the kids are napping. But it is so worth it when you start to see your hard work pay off. Check out some of the ways to make money blogging.
If you want to start a blog of your own, check out my step-by-step guide on how to start a blog.
2. Freelancing
   This one is also extremely flexible but depending on who you are working for, there is usually a deadline to submit your work. There are also a ton of different types of freelancing you can do, such as writing, photography, researching, etc.
   There are several companies that employ freelancers but notoriously provide low paying jobs. If you advertise your services yourself then you can charge whatever you want! You'd be surprised where you can find opportunities for freelance work, sometimes you can put feelers out with people you know.
   I did freelance work for a friend working in real estate because he needed someone to help with putting together posts for his website. So you never know who might be looking for a little help, they might be right in your inner circle! 
   Proofreading is another form of freelancing that is becoming increasingly popular as a work from home job because there are tons of opportunities! Writers that are pushing out a ton of content don't necessarily have the time to go back and proofread it all, so they hire proofreaders to do it for them and they are usually paid pretty generously for it.
This is generally a type of freelancing work but there are companies out there that will hire you and assign you to other businesses for single jobs, though the pay can be a bit low.
   If you are great at spelling, punctuation and grammar and you are interested in becoming a professional proofreader I highly recommend looking into Proofread Anywhere.
This is an online course created for people wanting to make proofreading their career and it teaches you everything you need to know about how to proofread effectively. The course also goes into different methods of proofreading, how to turn it into a business, how to find jobs as a proofreader, how to bill your clients and how to set up your taxes. If you have questions about anything regarding proofreading, this course most likely covers it. You can check out more details on Proofread Anywhere here.
BONUS!
Caitlyn Pyle, the creator of Proofread Anywhere, also published a book called Work at Home: The No-Nonsense Guide to Avoiding Scams and Generating Real Income from Anywhere. This woman is amazing, she is a leader in the work at home world and she is an awesome resource. She is generously offering this amazing book for FREE! All you have to do is pay for shipping and it's yours! If you are serious about learning to work from home, I highly encourage you to check it out. You can grab your free book here!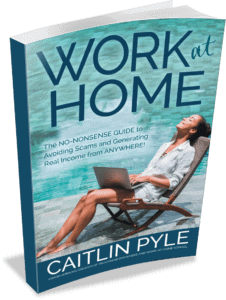 3. Transcribing/Captioning
   Transcribing is turning a video or audio into a written document or adding captions. With video becoming more and more popular on the internet, transcription is becoming increasingly popular and will continue to do so. It can be a bit challenging with kids in the house because it requires quite a bit of concentration but it has great potential for earning a decent income.
   The national average annual income for a general transcriptionist is currently about $45,000, which is awesome whether you are a single mom trying to stay home with your kids or just trying to provide a supplemental income to your home.
A couple companies that you can get started transcribing and captioning with are Rev and Transcribeme
4. Virtual Assistant
   A Virtual Assistant is perfect for those that are great at administrative work and naturally love to organize because it is exactly what it sounds like. It is basically an assistant but everything is done over the computer or phone. You have a better chance at making more money if you advertise your services yourself and set your own rate of pay, but if you prefer to go through a virtual assisting company that can provide you with clients here are a few you can check out.
5. Sell A Product
   This category has a ton of different directions you can go. If you have a certain skill or hobby like sewing, crafting, design work, cooking, woodworking, etc. Turn it into something you can sell for profit! There are a ton of outlets for homemade products like local craft fairs, Etsy and Facebook groups. I love to make wood signs and vinyl projects and sell locally to bring in a bit of extra income.
   Another direction you could go is through a company that already has a product and become a distributor for that company, also usually called an MLM or Multi Level Marketing Company. Which leads me to my next option…
6. Become A Distributor
   There are tons of companies that do this, like Mary Kay, Tupperware, Pampered Chef, Senegence, etc. There are several pros and cons to this option that you should definitely consider before jumping in first though.
   The best piece of advice I can offer in this category is to make sure you stand behind and LOVE their product. If you join a company solely to make money and don't actually use or even like their product then you will not only fail to make any money but you will most likely LOSE money as well as friends.
   The point is, these companies have a reputation for encouraging pushy sales techniques and that is something nobody likes to deal with and nobody likes to become. That being said, you don't have to actually be salesy to succeed with an MLM company IF you truly stand behind their product. Some of these companies have a truly great product that people are more than happy to buy if you go about it the right way.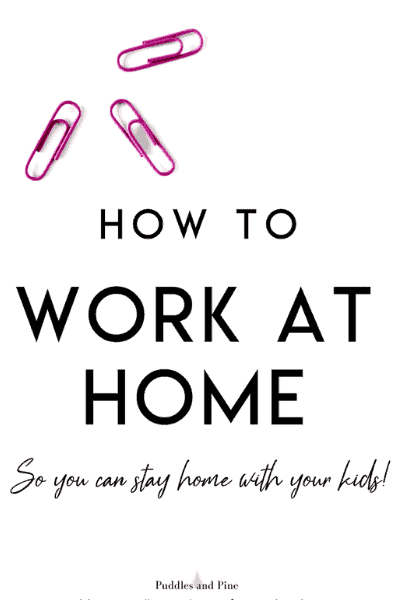 That's it! Please let me know if you have any questions!
xoxo, Brianne