Sometimes it can be hard to come up with DIY home storage organization ideas, but using these tips has helped me keep track of everything so much more easily and provides cheap home décor ideas too! Keep reading to learn how to organize your home inexpensively and how to be more organized in general.
When we bought our house, I told myself that as I unpack I'm not going to let myself become disorganized. It's so easy to just throw things in a drawer or cupboard and call it good but that's how things get lost or go bad! The only exception is the junk drawer, because everyone needs a junk drawer, right?! I wanted everything to have a place and be easy to find while not being in the way, which is easier said than done. It definitely made unpacking a lot slower but I'm so happy I took the extra time to organize everything before just dumping out boxes because it creates so much more space!
The same thing can be done with stuff already in your house, it just takes a little bit of creativity. In our last home, we were pretty cramped in a little house with not much living space and two little boys. The slightest mess would feel like the whole house was cluttered, but after implementing some of these tips it completely changed the feeling of our small home. Messes became easier to clean, everything looked prettier and I didn't feel like I was surrounded by clutter. Fast forward to our current home and I still implement several of these tips as well as added some new ones!
One thing I have to make sure to put out there…being organized takes commitment to staying organized. You don't want to take the time to organize your home only to have it wind up a complete mess in a week, you need to be able to stick with your method whenever you put something away or buy something new so you can stay organized long term. It's way too easy to create a system for organizing toys and then the next time you're putting toys away, you just throw them in a closet. That just leads to frustration and a bigger mess you have to clean up later and then you have to start all over again. Instead, just take a few extra minutes to put them away correctly or better yet, show your kids how to do it, and save yourself a headache later.
This post contains affiliate links, which means I receive a small commission at no extra cost to you, if you make a purchase using that link.
1. Keep your bulk foods in canisters
I was really bad about this one for a long time. I would buy flour, sugar, oatmeal, etc. over and over again because I'd use them once and then they'd get shoved to the back of the cupboard where no one could see them. When I first transferred everything to these jars, I was consolidating FIVE bags of flour guys…FIVE. I just kept buying flour because I thought we were out when it was really just buried under all our other food. After designating anything bought in a large package or in bulk to labeled canisters (I used these cracker jars from Target!), it not only looks so much nicer than a bunch of bags piled on top of each other, I always know how much we have and food doesn't get wasted.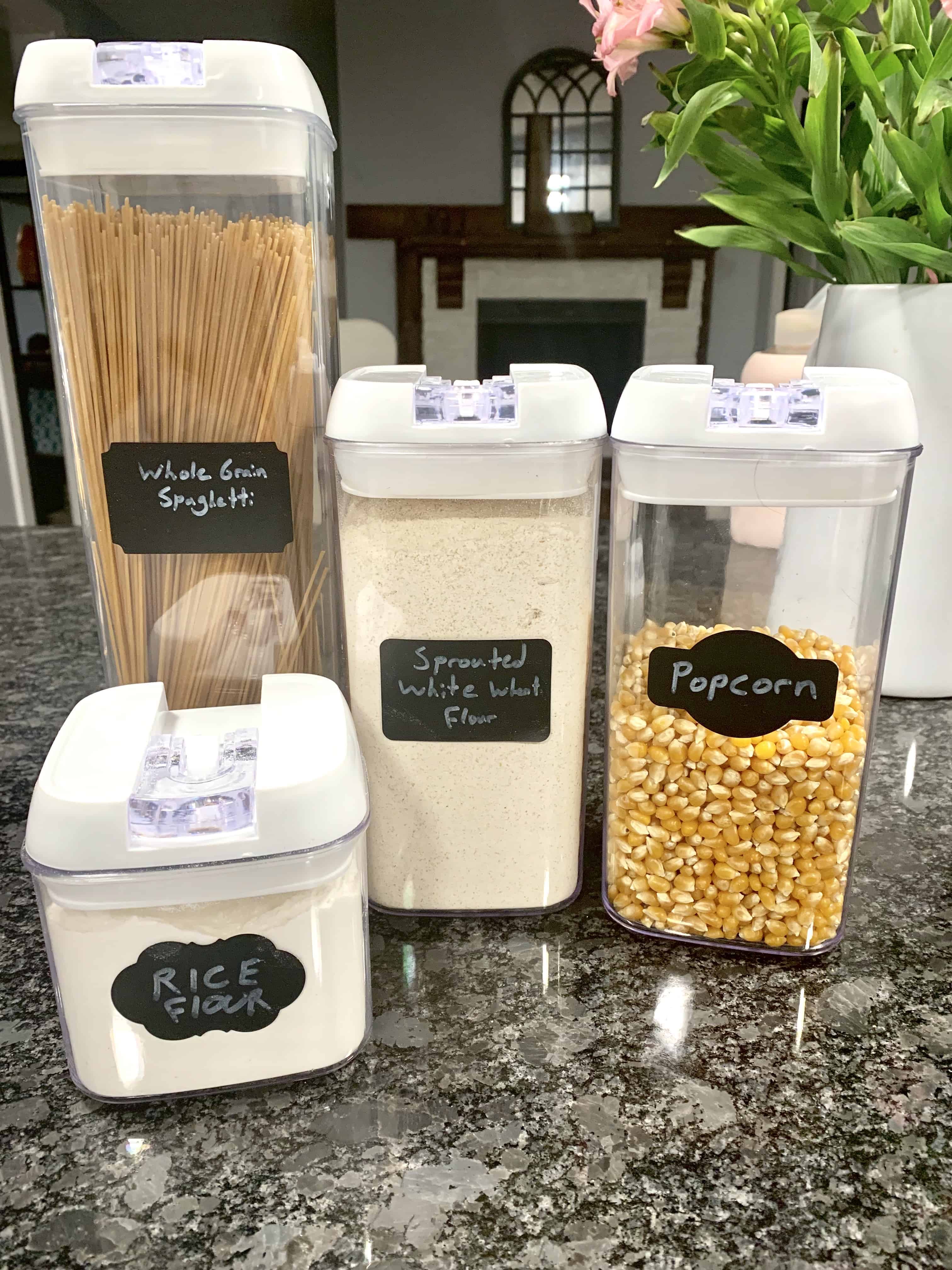 This works for snacks, pasta, odd ingredients, pretty much anything that may come in a weird package. This works really great for cereal, especially if your kiddos (or hubby!) like to leave the cereal box open so it all goes stale overnight. I got these airtight canisters and they keep your food fresh longer, thus cutting down on food waste and making it easier to find things.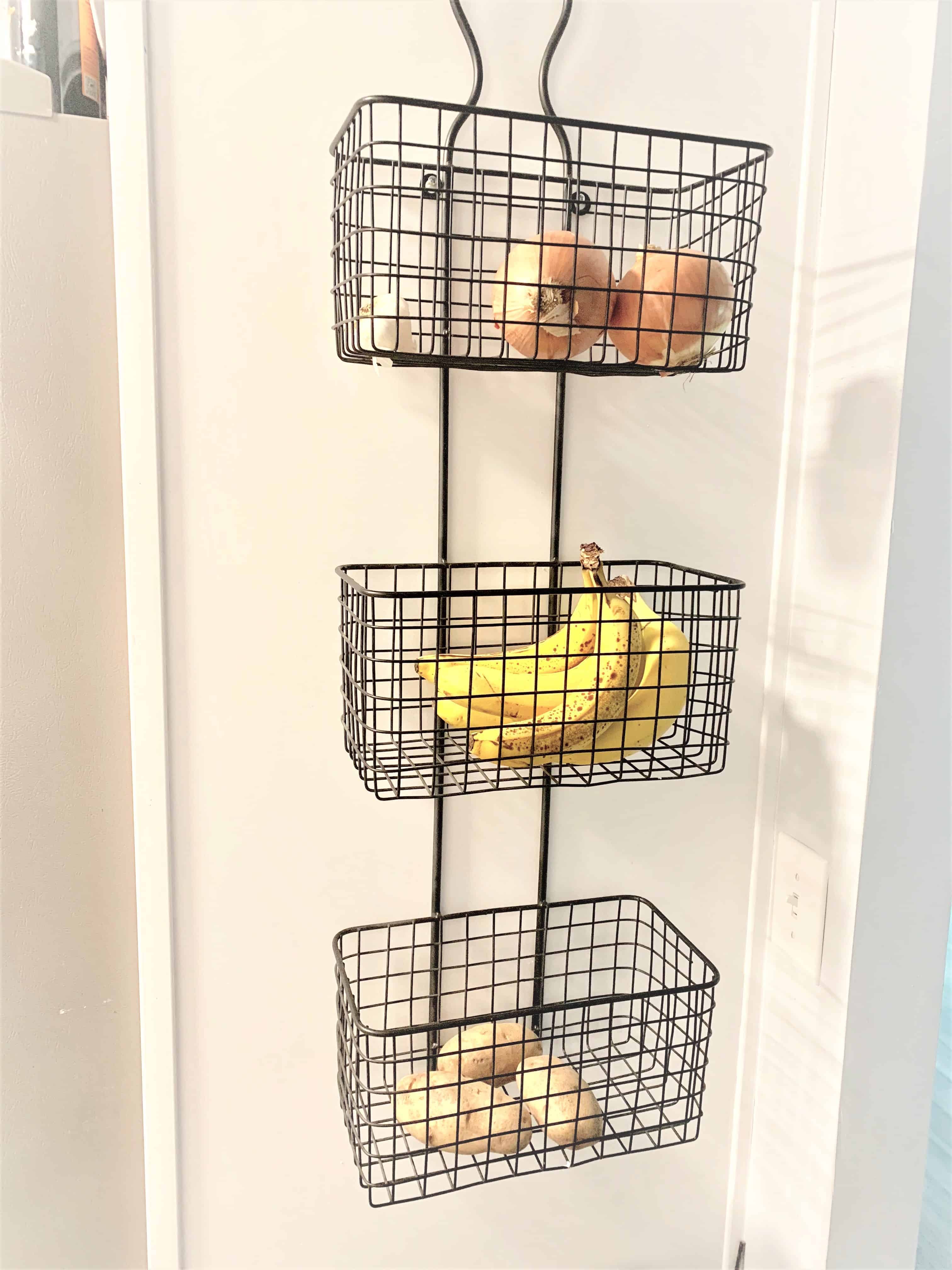 2. Designate a space for non refrigerated fruits and veggies
For years I would buy bags of potatoes and onions and throw them in a cupboard or for a really long time their home was on top of the fridge….right where they can be easily forgotten. I'd end up with bags full of rotten potatoes (which is one reason why I don't buy whole bags anymore) and moldy onions smelling up the kitchen. Using a basket like this and putting it somewhere you can easily see it and know what food you need to use up, is a great way to make it look nice and be functional at the same time. Now I walk past this basket and see that I have some potatoes and onions I could incorporate into dinner before they go bad and maybe make some banana bread with my soon-to-be overripe bananas. I received this basket as a housewarming gift and I absolutely love it, I found a similar one here at Amazon that would work just as great.

3. Create accessible storage for frequently used toys
I think this room is probably my favorite room in the entire house. When we did our first walk through of our house, as soon as I saw this room I knew I wanted to make it a playroom for our boys. Best. Decision. Ever. It creates a space for them to play without being in the way when I'm trying to make dinner or get some work done but I can easily interact and keep an eye on them.
I knew when designing this space that this was where they would end up bringing all their favorite toys to play with so I wanted to add functional storage for those toys that the boys could easily access. I also wanted to make sure it looked nice since you can see straight to this room when you walk through the front door, so I chose two of these cube organizer shelves and cute mint green fabric storage bins to help keep the toys organized and hidden away when not in use. Cleaning up is so fast now, we have separate bins for movies, cars, trains, play food and action figures and it's easy to get the boys to pick up after themselves with these bins at their level.
I also considered a book shelf but knowing my one year old, the books would constantly just be pulled onto the floor so I got a cute hamper from Marshalls and used that as a kind of book basket. I also got a picture ledge from IKEA and used that as a mini book display for my 3 year old to put his favorite books. You can check out some other neat ideas using IKEA furniture here.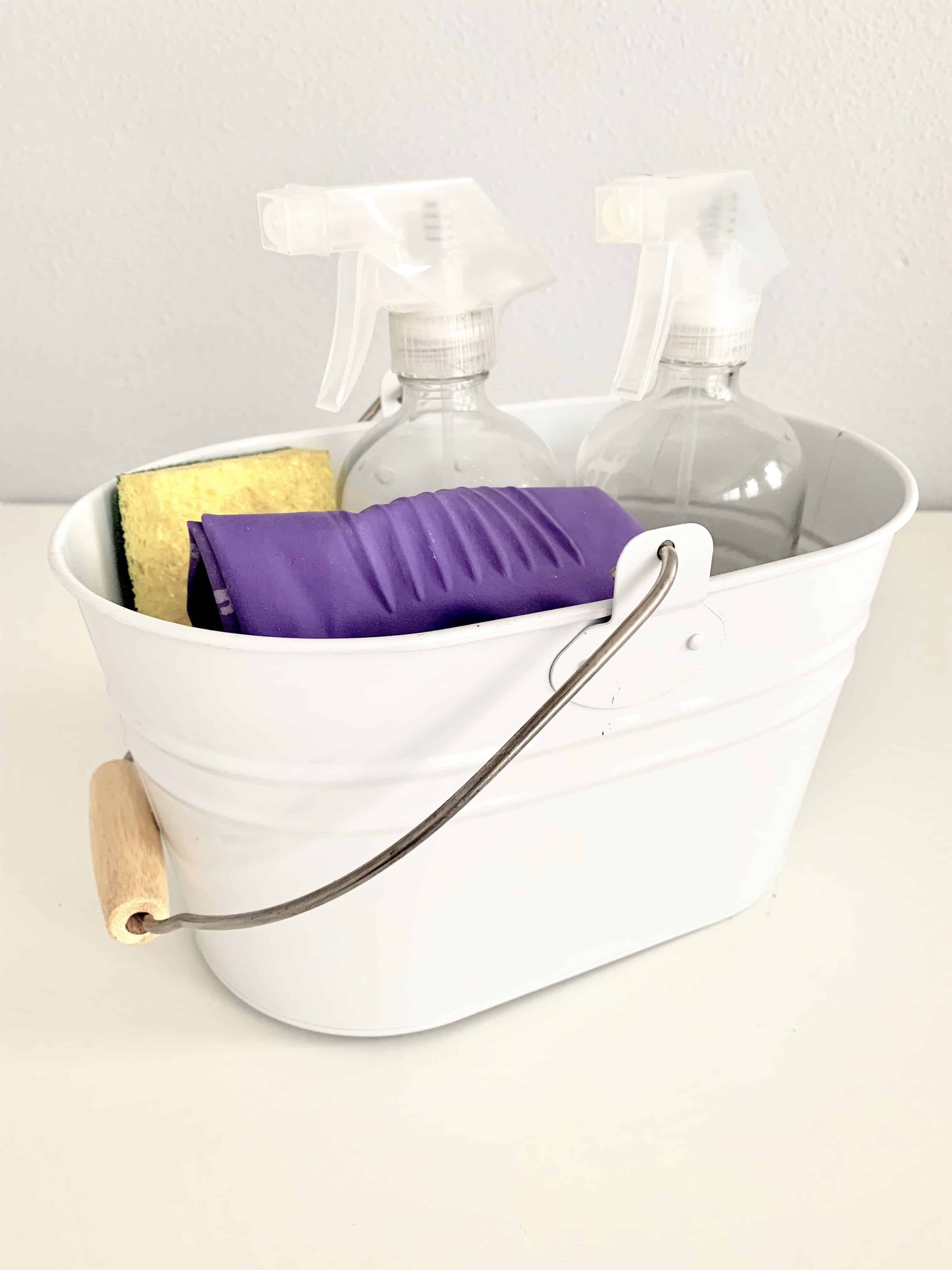 4. Create a cleaning bucket
This tip is so incredibly helpful for cleaning around the house, especially when you are doing several rooms at once. I have my all-purpose thieves cleaner, a dusting rag, glass cleaner, gloves and usually some kind of sponge or cleaning rag ready to go in my bucket at all times. I got this adorable bucket from the Grove Collaborative, they have the cutest cleaning accessories! I highly encourage you to check them out! When I'm in cleaning mode, I just grab my cleaning supplies and take them with me from room to room.
You can learn more about some non toxic cleaner alternatives I love to use here!
NOTE* I got this adorable kids cleaning set by Melissa & Doug and my boys absolutely LOVE using it to help me "clean" (they usually make a bigger mess when they try to help but it's so adorable I learned to just work around it). I put together their own cleaning basket and filled the little cleaner bottle with some thieves cleaner so they can help spray counters and it's a great way to help them learn good cleaning chores early!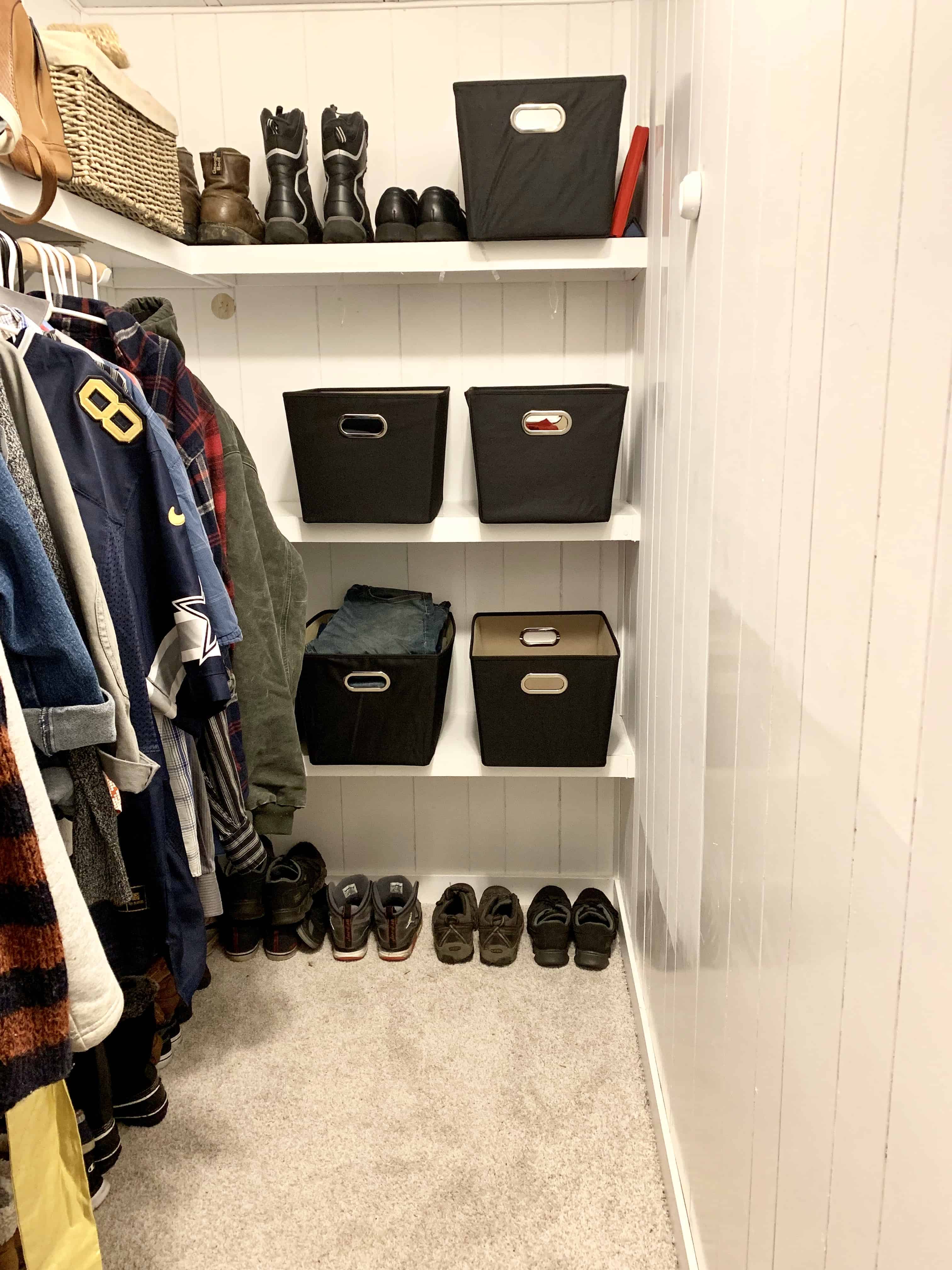 5. Use bins to make the most of closet space
We only have one dresser which I use for most of my clothes because I have a lot more than my husband, so we use most of the closet for his clothes. The problem is, he isn't really known for being super organized….I tried folding his clothes and just placing them neatly on the shelves and within a week it looked like this: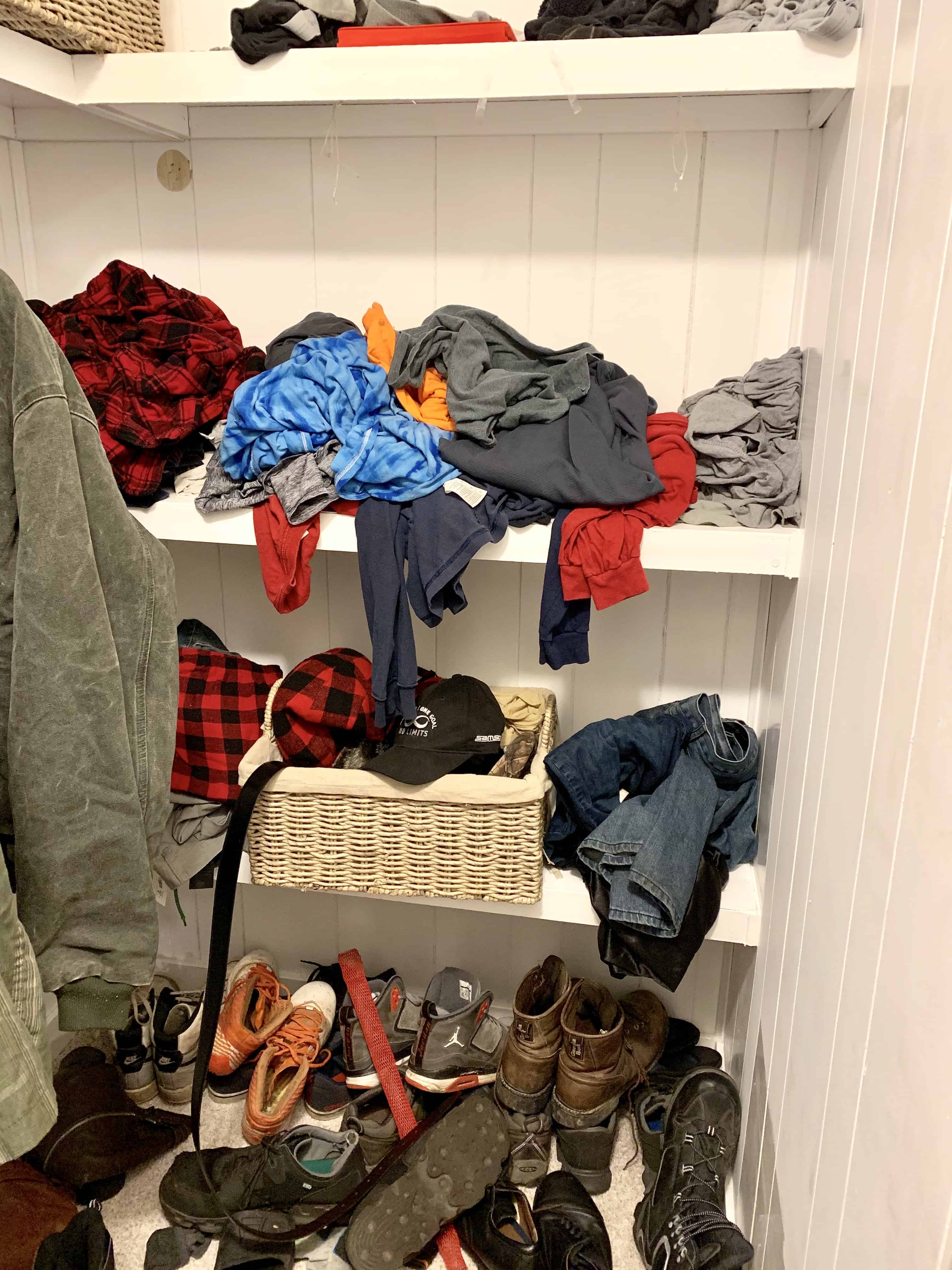 Being a bit of a neat freak, I could barely stand to look at this whenever I walked in the closet so I went and picked up these bins at Fred Meyer for $6 each and designated each one for a certain category. So far it's working much better!
It's so much easier to find things now and you can totally use much cuter baskets too, I just thought these looked more guy friendly and they were cheap!
6. Use a household management binder
This one was huge for me because I would stuff all our important info into a file box and I could never find it again. A good household binder will hold all your important information like family medical history and doctor contacts, medical, auto and homeowners insurance company contacts, calendars, meal plans, freezer inventory, vet info, babysitting info sheet, etc. Pretty much anything important, you'll keep in that same place where you can always find it. I use mine almost daily and it's been perfect for keeping all our important information organized. I have designed a printable one that you can download for free below! Simply print it out, hole punch the pages and put it in a cute binder. (mine is pink with pineapples on it!)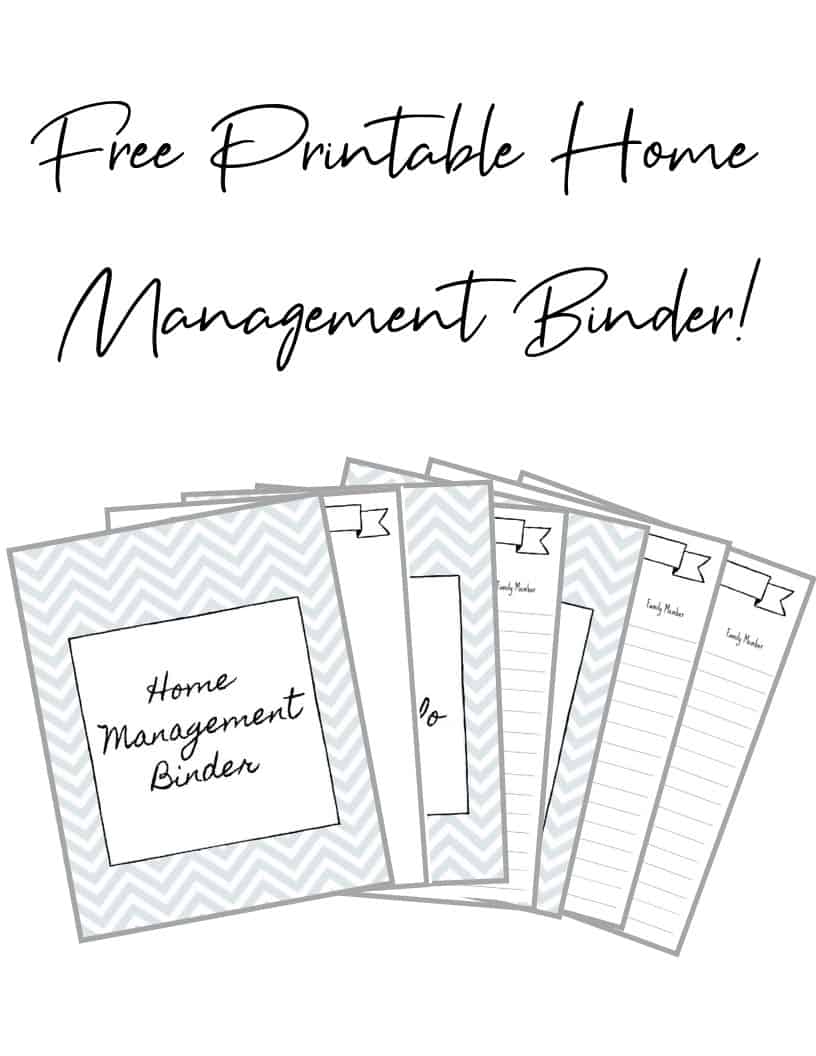 Click here to download a FREE home management binder!
All it takes is a little bit of patience and creativity to be more organized. I hope these tips were helpful!
xoxo, Brianne