Please note: many of these links are affiliate links so if you purchase any of these items through the links on this page, I make a small commission that is used to help keep Puddles and Pine running. I only link to products I personally use and recommend.
I use this website to order most of my DIY ingredients. This is the best natural ingredient company I've found and I love that they strive to offer the purest ingredients and are an honest, open and transparent company.
They are based in Eugene, Oregon and are well known for organic, sustainably sourced, and wild harvested products.
Megafood is a reputable whole foods sourced vitamin brand. Their vitamins and minerals are made with whole foods that are sourced from trusted, high quality farms. I love that they are very transparent about their farms and where their ingredients come from.
Right now we are using their gummy vitamin C and D3 and we love it!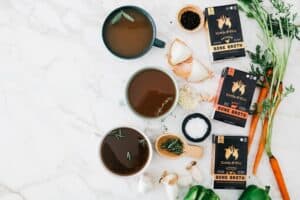 Kettle & Fire make bone broth and bone broth based soups that are delicious! If I don't have time or don't feel up to making homemade bone broth then I always go for Kettle & Fire's bone broth because I trust their process and ingredients.
I have looked into several different essential oil brands and after tons of research, Young Living wins. One huge reason is because they are transparent about their distillation process and make it a priority to make sure all their oils are 100% pure. They are the only company I feel confident buying from and using on myself and my family.