I'm sure you've heard of essential oils before, they have gained a ton of popularity lately and for good reason, they're amazing! It's funny that the media talks about essential oils like they're a "new trend" when people have been using essential oils for thousands of years. Ancient civilizations knew what God created through plants is POWERFUL and created to work perfectly with our bodies. They also didn't have modern beauty and personal care products so they turned to nature and figured out that some pretty amazing benefits. I prefer using oils over most modern beauty products because I have had way better results in the last 2 years of using essential oils than I have every other year using anything else.
Make Note…
I feel like essential oils are starting to get a bad reputation for being called "substitutes" for medicine. Let me tell you, that is definitely not what they are meant for. Essential oils are awesome to help boost your overall wellness and support your different body systems, and I will reach for an oil if I'm feeling under the weather but that doesn't mean I won't use medicine for myself or my family if we are truly sick.
I am what I like to call "semi crunchy". I love to find natural alternatives for everything, I will always opt for something natural and free of harmful chemicals if given the option but I know when to reach for medicine if it's needed. I am not a medical expert, if I think for one second that anyone in my family is seriously ill, we go straight to the doctor.
That being said, essential oils are an amazing tool to help keep you and your family above the wellness line and help provide some relief when needed. If you are ready to start implementing them into your life, then start here!
I choose to use Young Living oils, if you would like to know why then you can click HERE to read all about it!
Ready To Get Your Kit?
If you're interested in getting started with essential oils, then you have a couple of options.
Option 1: You can become a retail customer and just buy the oils that you need. You'll pay a 24% markup on the oils when you purchase at retail price, but there are a few who still choose to go this route.
Option 2: You can get started as a wholesale member and get one of the Premium Starter Kits.The starter kit has the essential oils that EVERYONE needs in their home.
When you become a wholesale member, there are also NO monthly minimum purchases! This is not one of those programs where you have to order monthly to keep your membership, trust me, I wouldn't have signed up if there was because that is a big red light for me.
BUT, I will say that most people find that they love the products so much that they WANT to order monthly. And Young Living has an incredible rewards program for those that want to order regularly and it's a great way to get free oils.
The premium starter kit is definitely the best way to get started, it's how I did! You get 12 of their most popular oils plus samples of other products and a diffuser. My favorite is the desert mist (pictured below). You can see what a great deal this kit is below, the oils work out to only be $8.75 EACH! Just the Panaway blend alone that is included in the kit is normally $36.25 wholesale and $47.70 retail so you can see what a steal that is.

What comes in a Premium Starter Kit?
In the oil PSK you will receive:
One Diffuser of your choice
Premium Essential Oils Collection;

Lavender 5-ml
Peppermint Vitality 5-ml
Lemon Vitality 5-ml
Valor 5-ml
Peace & Calming 5-ml
Frankincense 5-ml
Thieves Vitality 5-ml
Citrus Fresh Vitality 5-ml
Raven 5-ml
DiGize Vitality 5-ml
PanAway 5-ml

Stress Away 5-ml
2 AromaGlide Roller Fitments
Thieves Waterless Hand Purifier, 1 oz.
Thieves Household Cleaner 1-oz. sample (this will make 1 WHOLE bottle of thieves cleaner!)
2 NingXia Red 2-oz. samples
Product Guide and Product Price List
Product Price List
Essential Oil Display Tray
Young Living Lifestyle Booklet
Check out the graphic below to learn more about the individual oils!

Directions to order your kit     
BRIANNE LARRABEE MEMBER #10367748
CLICK HERE and if you want me as your sponsor, make sure my number 10367748 is in the enroller and sponsor box so I can add you to our exclusive Facebook group!
Select either wholesale member or retail customer. You can select either one but you save 24% by becoming a member and remember, there is absolutely no requirement to buy anything every month. The only requirement for being a member is you have to spend $50 a year…which is incredibly easy to do.
Select your kit. There are several options that vary in price, you can see them in the graphic below. These other kits are amazing, like the thieves kit (learn about their awesome thieves all-purpose cleaner here!) but I generally recommend starting with the oils first. If you select the oils kit, you will need to select a diffuser. My favorite is the desert mist (pictured below) but they are several great options that vary in price.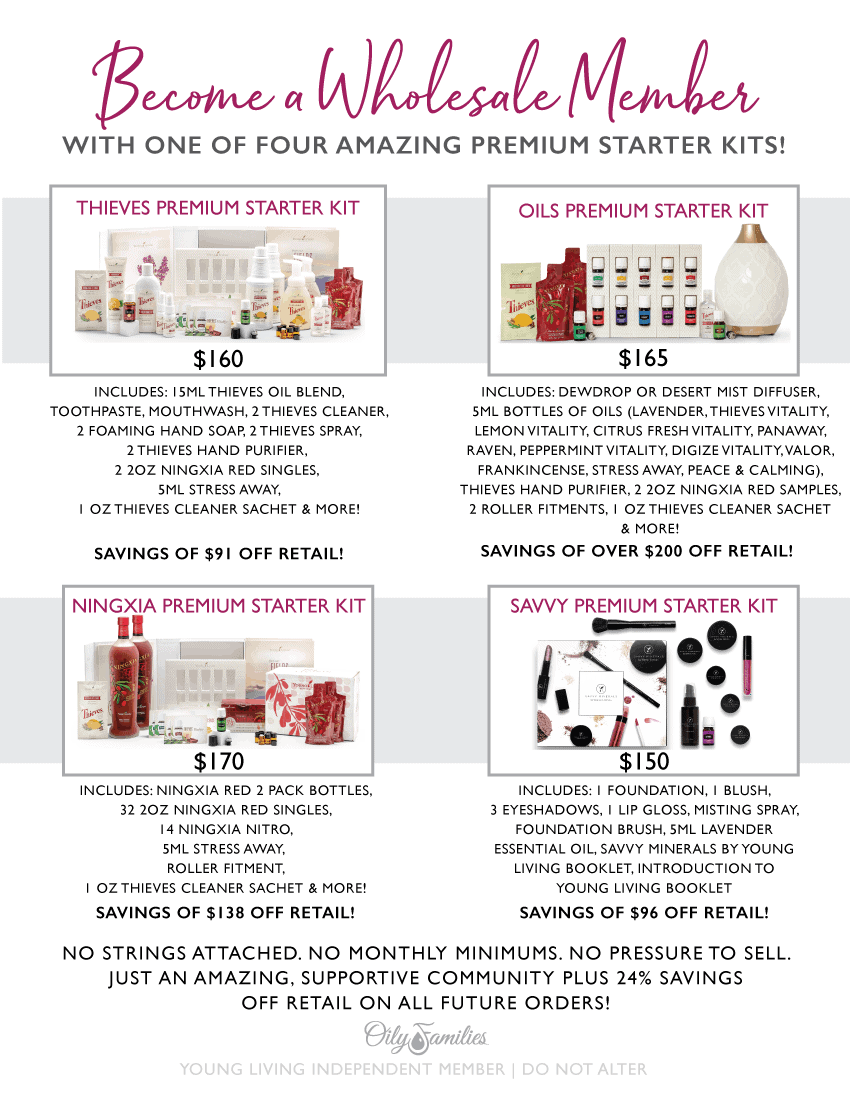 The next step is optional so if you want to ease yourself into it you can totally skip this step, but if you already know that you want to be ordering regularly (a solid 50% of people do!), then you can go ahead and sign up for Essential Rewards right there when you order your starter kit. It's an amazing way to earn FREE oils with your order every month! Essential rewards is pretty much a monthly subscription box that is 100% customizable. You simply fill it with $50 or more worth of oils, supplements, cleaning products, shampoo…pretty much whatever you are getting low on. Young Living will give you 10% of that amount back in points to be used on future purchases. It eventually increases to 20% after you've been enrolled for 3 months, then 25% after 24 months. That mean if you enroll in Essential Rewards and you spend $100 in month 4, you will receive $20 worth of points in your account for a later time! It's pretty awesome, especially if you just use it for things you already use like dishwasher detergent, laundry detergent, hand soap, cleaner, etc. Its like getting paid to buy stuff you would already get anyways. PLUS they have promo oils every month so if you spend over $100 you will get free oils in addition to what you've already ordered! It's pretty great. You can always sign up later too so there is no pressure if you are not sure you want to start with that right off the bat.
If you do want to sign up then click customize monthly order and pick out what you would like in your box, then click Save Monthly Order at the bottom of the page. It will direct you back to the original page where you can click the confirm monthly order box.
You can either add more products or click Next.
If you decided not to sign up for the monthly subscription box a pop up window will say "proceed without auto-shipment". Simply select "continue enrollment".
Enter your info. In the social security section, select "Individual". You have the option to add your social security number if you think you want to start making money by selling oils, then they need that for tax purposes, but you can opt not to if you want to sign up just for personal use. That's what I did.
Continue until you get a pop up window congratulating you and you should get a confirmation email shortly.
If you have any issues at all PLEASE email me at brianne@puddlesandpine.com
After signing up, you will become part of my oily community and you can expect emails from me guiding you on how to use your new starter kit!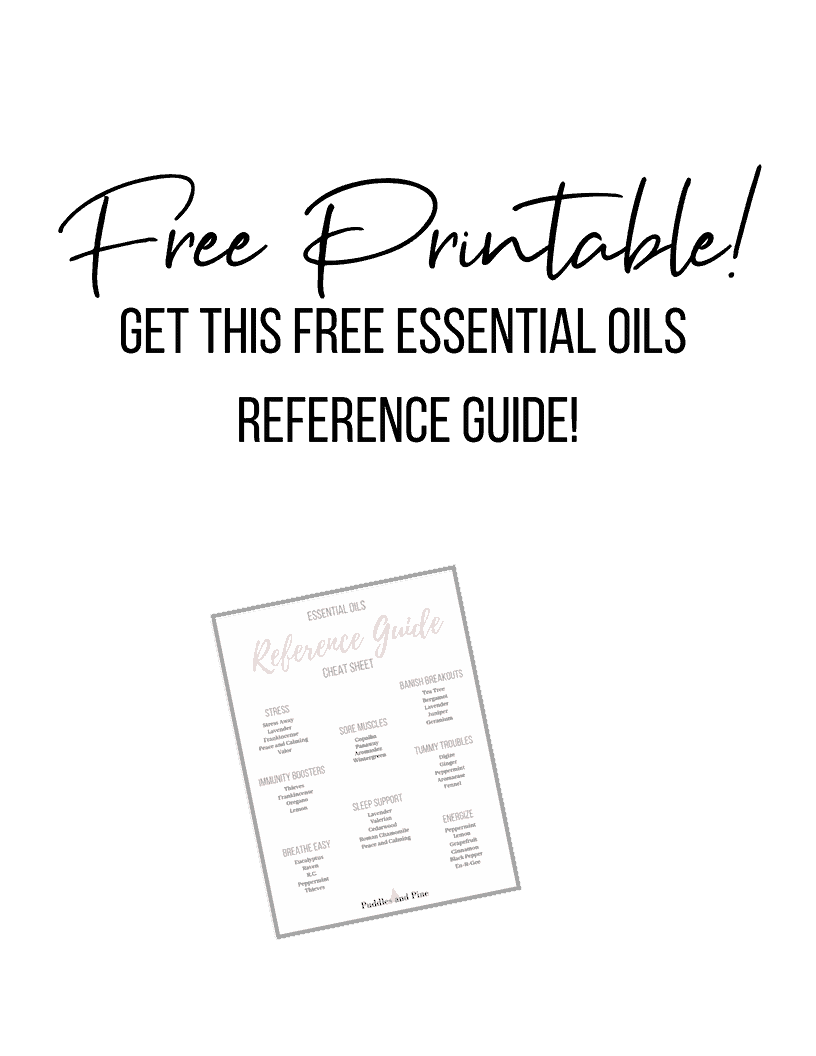 If you want to download this free printable, click here!