Awesome IKEA hacks to update your home!
Decorating your house with very little money can be a challenge, especially when it comes to furniture.
IKEA to the rescue!
Check out how to decorate with IKEA furniture on a budget without making it look cheap!
I love using these awesome IKEA hacks to help create a beautiful home.
This doesn't even begin to cover all the best IKEA hacks out there, but this is just my own personal experience, so enjoy!
 Ahh IKEA. I could spend hours and hours in this store.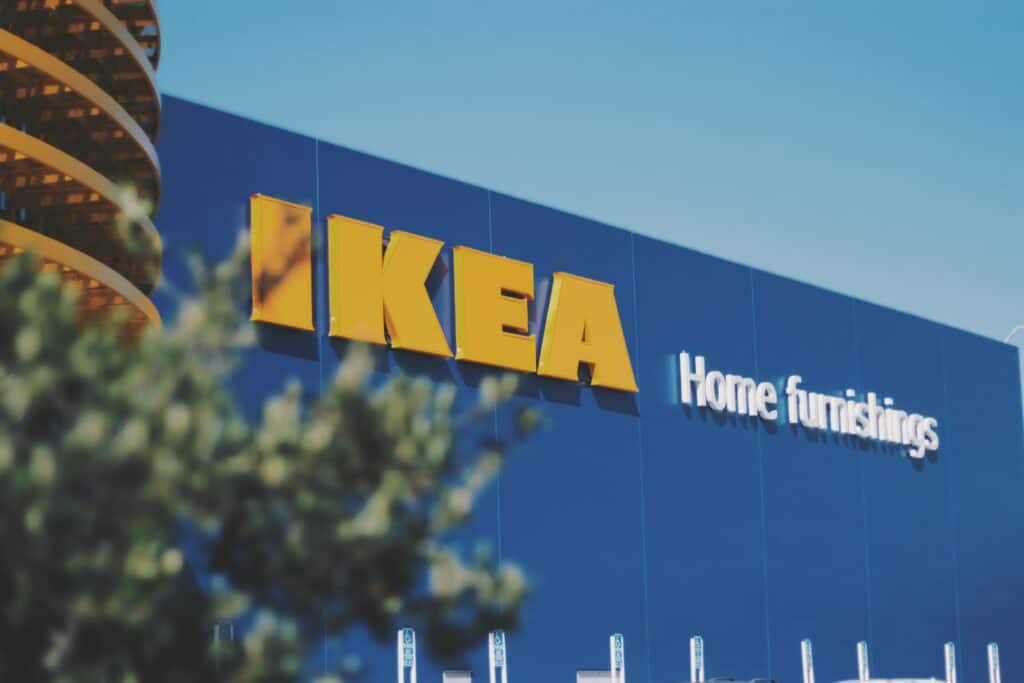 My husband has actually intentionally never gone to IKEA because he can't stand to spend hours shopping and he knows I will definitely be there for hours.
Well I don't like being rushed so it works out just fine for me.
 I absolutely love to see all the different ways they design rooms and how a single product could be used a hundred different ways, which is what inspired me to find my own creative uses for the things I've bought from IKEA!
These are not only inexpensive, but easy IKEA hacks that anyone could put together in minutes.
This post contains affiliate links.
Best IKEA Hacks For A Beautiful Home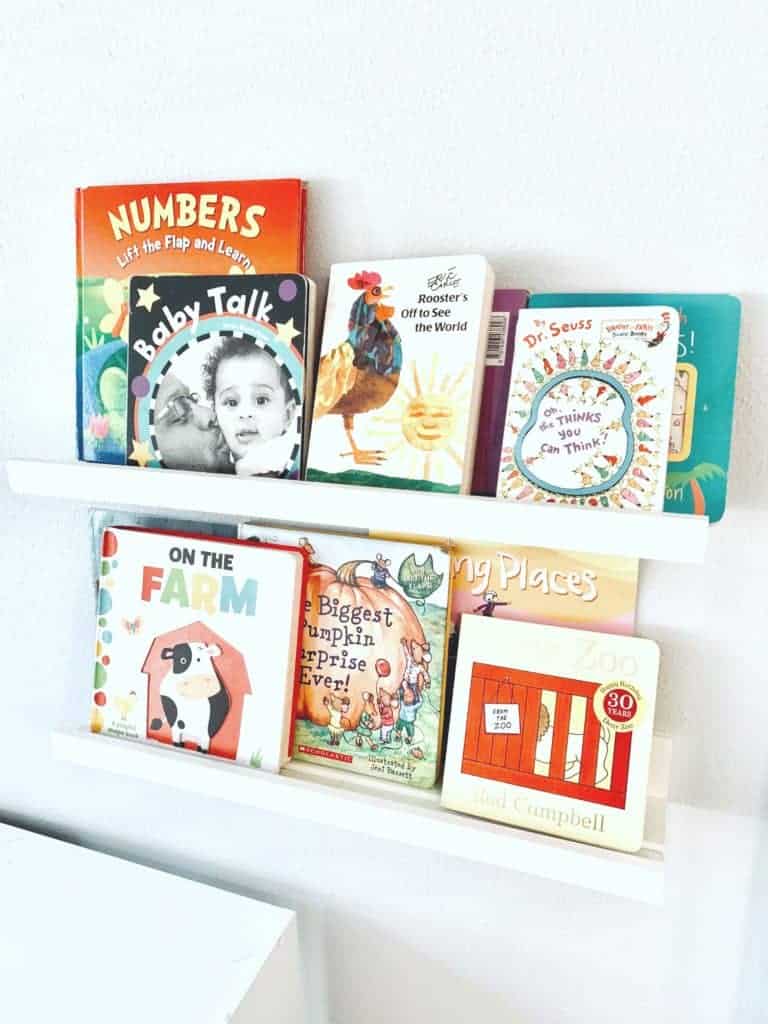 MOSSLANDA Picture Ledge
I love these ledges!
It is such a convenient little floating shelf for my kiddos books and it looks so cute in their playroom, plus they were only $9.99 each.
I've actually thought about getting more to put in each of their rooms.
It's an easy way to create functional storage while still looking nice and organized.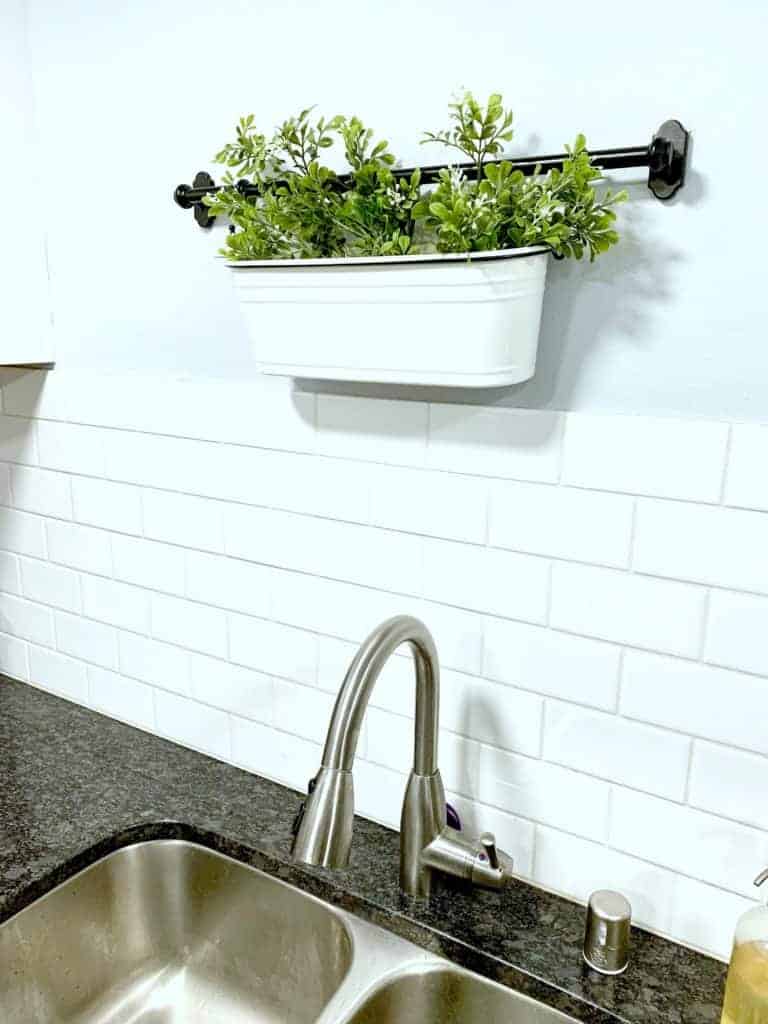 FINTORP Condiment Stand
This one is so incredibly versatile, you could store just about anything in this.
There are also smaller buckets in the series as well so you could mix it up with different sizes.
I just needed something to put over the sink in the kitchen so this worked perfectly and added a bit of greenery to the space.
I tend to kill real plants so I unfortunately had to go with fake, but you could absolutely grow live plants in these cute buckets.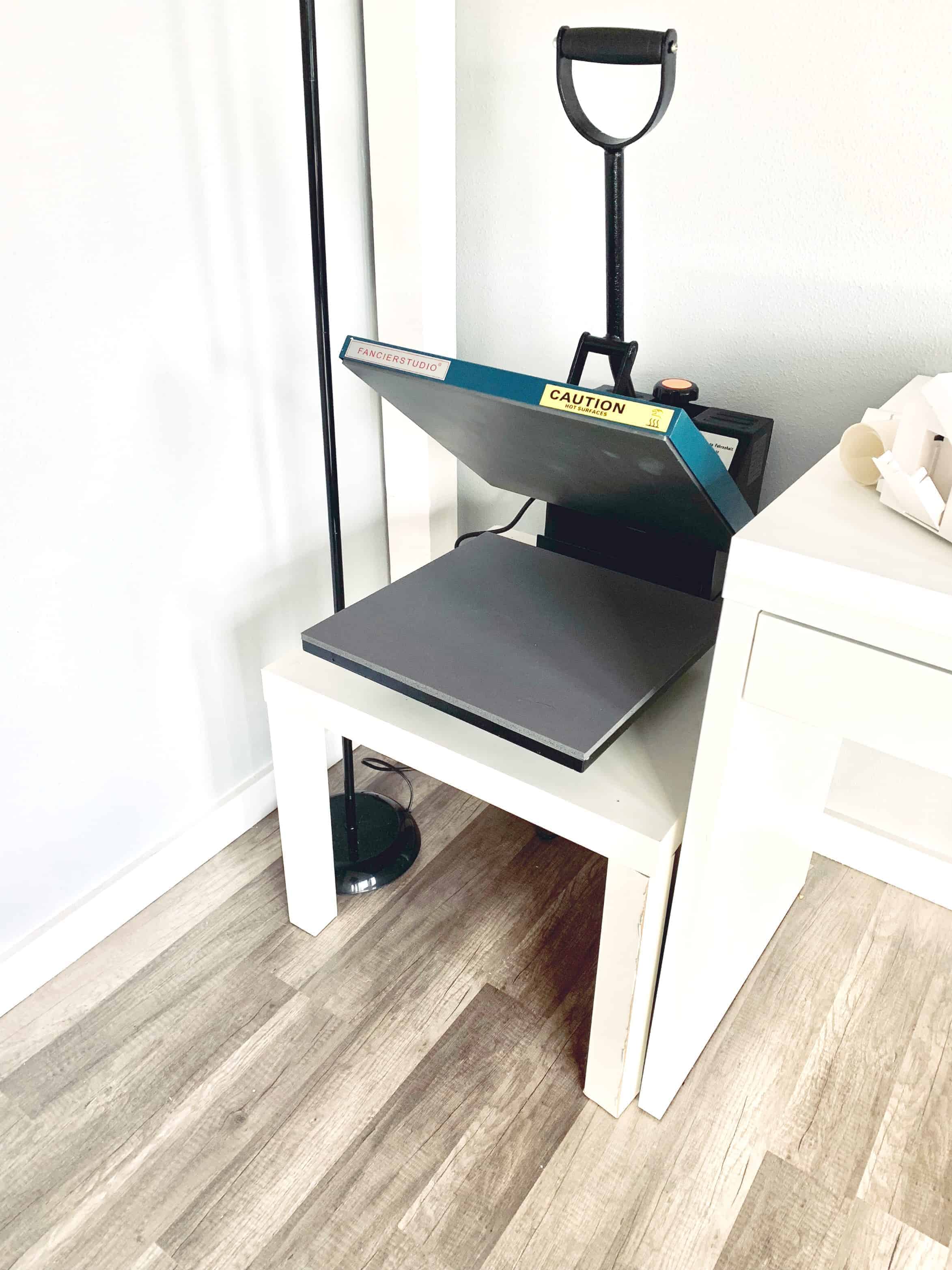 LACK Side Table
This little table is absolutely perfect to hold my heat press because it's surprisingly sturdy for a little table.
I've actually had this table for several years and never really had a place for it, so it just kind of floated around.
Then when my heat press arrived and I needed something to put it on, I spied this little table and knew it would be perfect!
You could totally get some small chairs and use it as a kids play table too.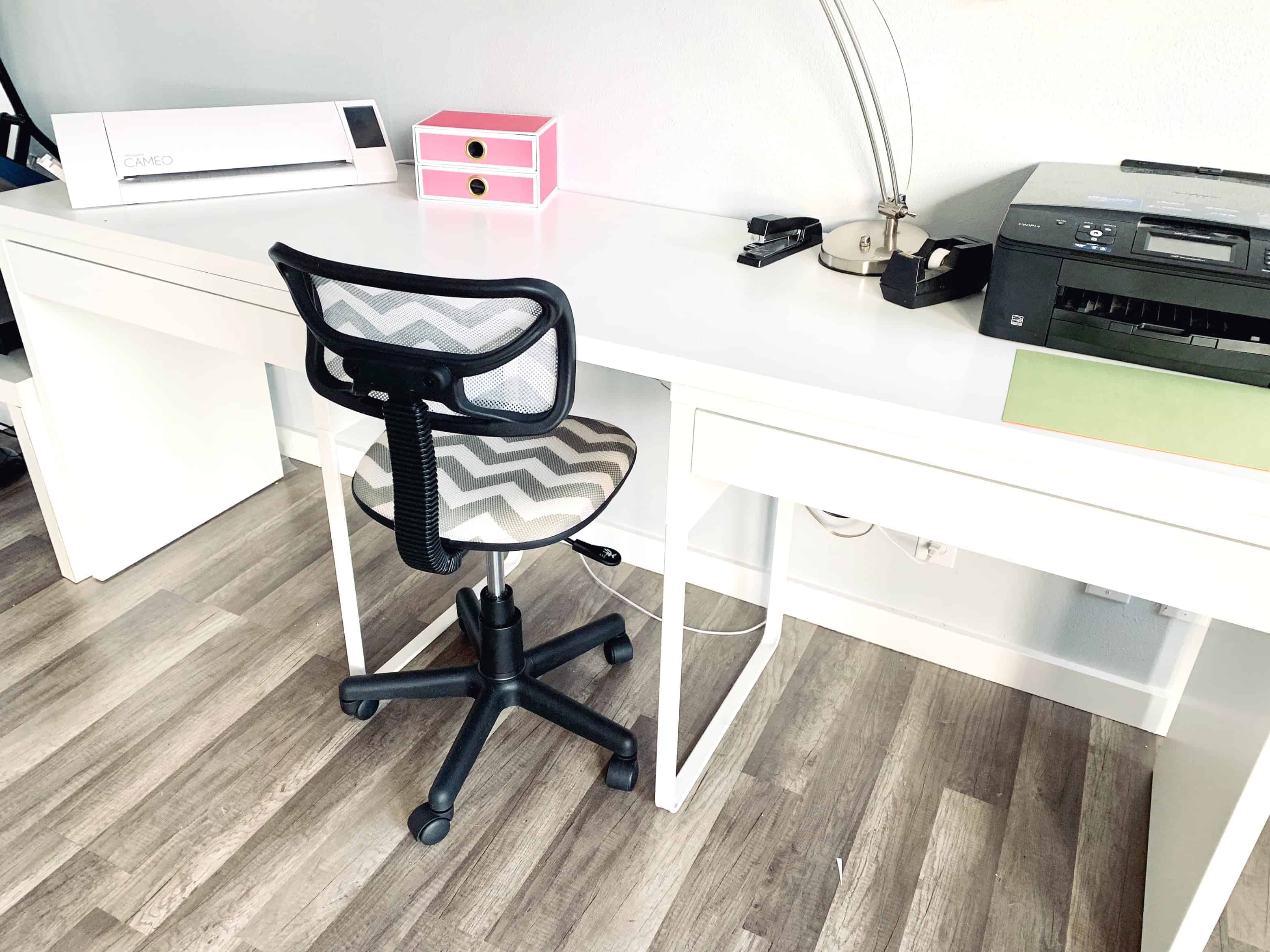 MICKE Desks and LINNMON tabletop
This one was actually kind of an accident.
If you've ever shopped at IKEA then you know that after you are finished shopping, you pick up your furniture in their warehouse.
Everything is packed in identical brown boxes so you have to rely on the correct aisle and bin number to make sure you are picking up the right one.
Well, I was apparently not paying attention and only saw the name MICKE on the box because I accidentally grabbed the wrong boxes.
What I intended to buy was two of these: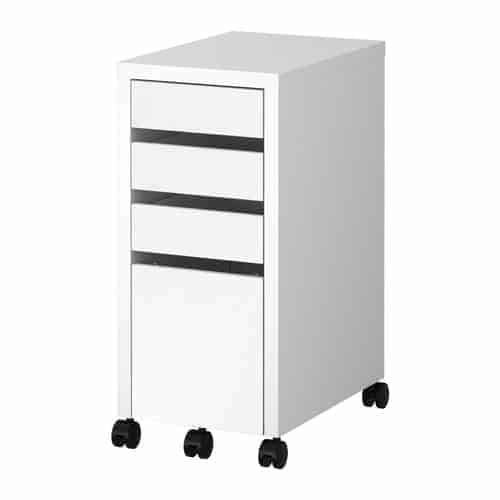 But I actually grabbed two of these: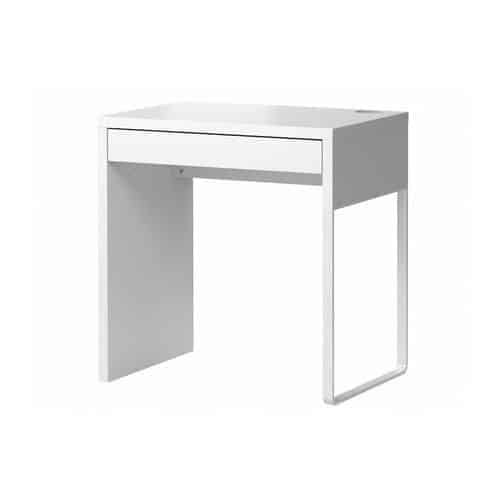 Of course I had absolutely no idea they were not what I meant to buy until they were put together and I realized they looked nothing like what I thought I purchased.
I had intended to use the two MICKE drawer organizers as legs for a desk together with the LINNMON tabletop and had a facepalm moment thinking I was going to have to drive several hours to the nearest IKEA to return these two desks.
Then I figured I'd see how it looks using them instead since I already had them put together anyways.
To my surprise, it looked great!
It totally looks intentional and the best part is these two desks were cheaper than what I actually meant to get!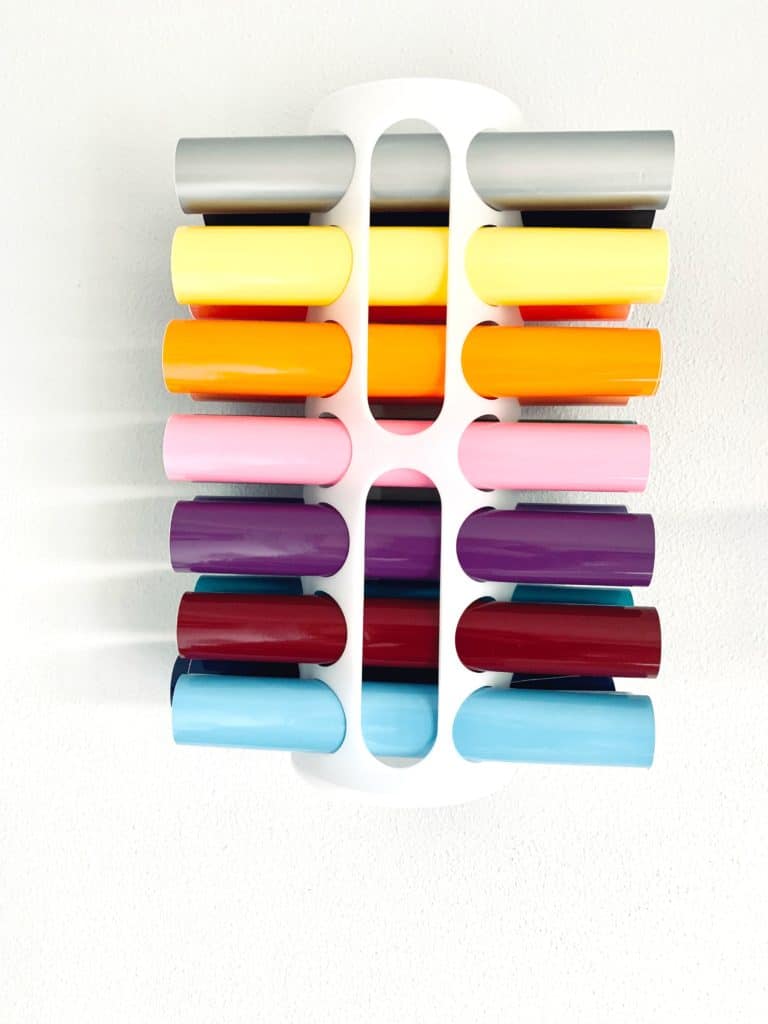 VARIERA Plastic Bag Dispenser
This one is actually not originally my idea.
I saw someone use this bag holder on facebook to store their scrapbook paper and knew it would be perfect to store vinyl for my silhouette machine!
I love these so much because I had no means of vinyl storage so they would just lie on top of my desk or I'd just stack them in a box.
This way it is so much more organized and the best part is these bag holders are only $2.99!
IKEA seriously has some of the best storage solutions ever.
I hope these hacks helped to inspire you!
xoxo, Brianne
Related Articles:
4 Best Apps To Earn Cash While Shopping
How To Use Rakuten To Make Money Online
How To Have A Healthy Home And What Can Make It Unhealthy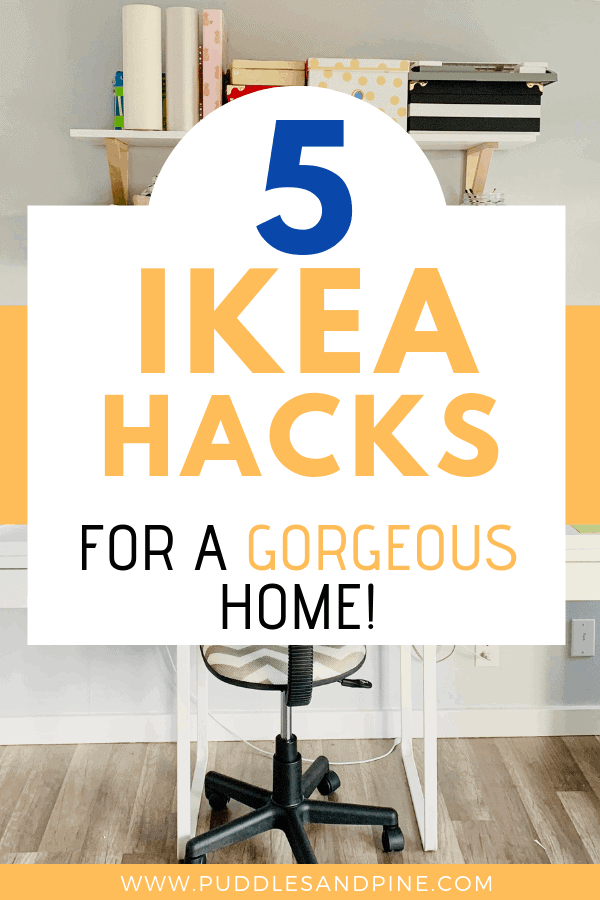 Best IKEA Hacks For A Beautiful Home