Homemade all natural bug spray with NO DEET!  
 Check out this non toxic DEET free homemade bug spray with essential oils. It's very effective and is 100% safe for children.
It is an all natural bug spray made with essential oils known for their bug repelling properties.
One of the other great benefits of repelling mosquitoes with essential oils is that it smells amazing!
No more harsh chemicals being breathed in, just all natural goodness.
Why Make Homemade Bug Spray?
   As someone who gets eaten alive by mosquitos every year during camping and BBQ season, I use a lot of bug spray.
I am no stranger to the pungent smell of DEET as I used to douse myself head to toe in the stuff to avoid bug bites the size of golf balls.
One thing I never really thought about was how I would immediately start gagging and coughing as soon as I breathed even a little of it in.
I just assumed it was something I had to deal with unless I wanted to be swarmed by insects.
Fast forward to when I had my oldest son and the first year we took him camping.
I actually found myself contemplating whether I should just let him get bitten by bugs rather than listen to him cough as he breathed in the fumes of the bug spray.
I looked for natural bug sprays at the store but they were either crazy expensive or still had some iffy ingredients in them.
So after doing some pretty extensive research, I decided to just make my own!
This bug spray has worked wonders for us and I have no worries about using this on my kids or on myself.
After using this all last summer, I got bit a total of two times….and that's because I neglected to spray my feet when I was wearing flip flops outside (I won't make that mistake again!) and my kids didn't get bit at all!
This post contains affiliate links.
DIY Natural Bug Spray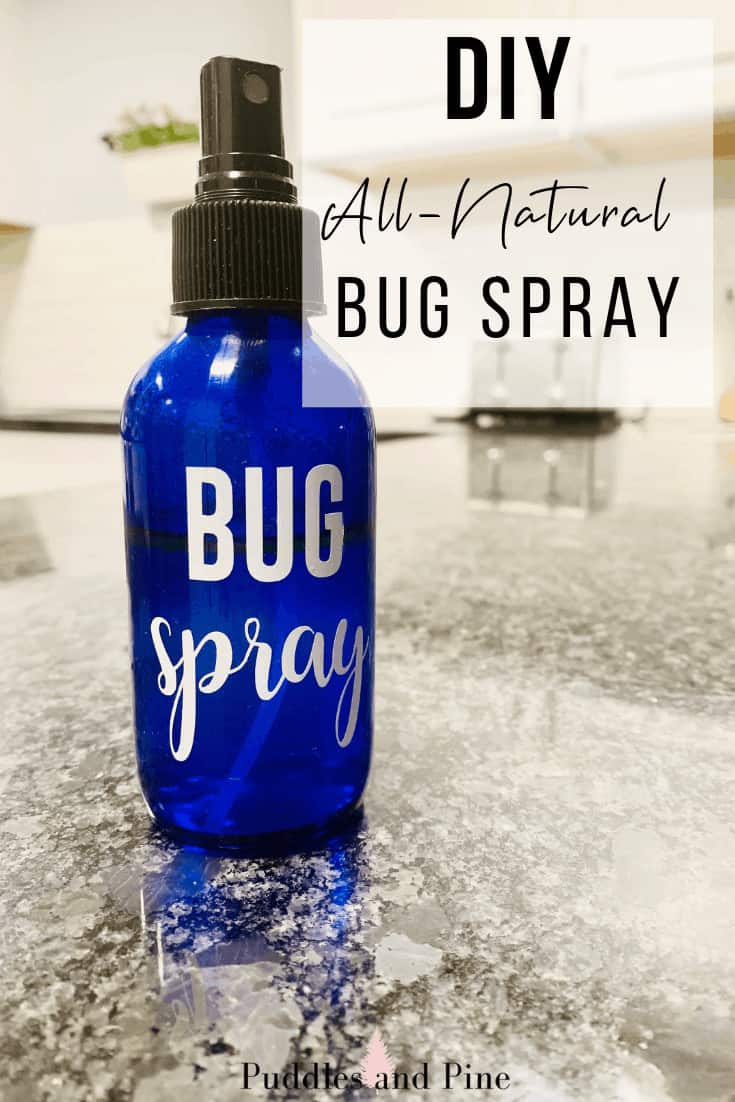 Why is DEET so controversial?
Dr. Abou Donia, a Duke University pharmacologist, found that rats treated with an average human dose of DEET performed far worse than control rats when challenged with physical tasks requiring muscle control, strength and coordination. 
In the same study, they found that DEET caused neurons to die in regions of the brain that control muscle movement, learning, memory and concentration.
Children are at an even higher risk for brain changes after DEET exposure because their skin absorbs it more readily. A study done in 2001 has also tied DEET to seizures or brain toxicity in children.
When applied topically, 56% of DEET has been shown to be absorbed by the skin, with 17% making it into the bloodstream.
In fact, DEET is stored in your skin, fat, body, and central nervous system. 
DEET has even been found in waste water and even in areas where waste water travels into other bodies of water. Which mean our lakes, streams, and drinking water are not free of DEET.
Because DEET products are used so widely, DEET is one of the most common chemical contaminants found in our water supplies.
That is enough to make me want to stay far away from products containing DEET.
Yes, it's true that DEET will help to keep insects at bay, but doesn't it make more sense to use a product that can do the same and keep harmful toxins out of your body and the environment?
Essential oils are 100% natural, will not harm the environment and actually help keep bugs away while doing no harm to our bodies (plus this spray smells way better!).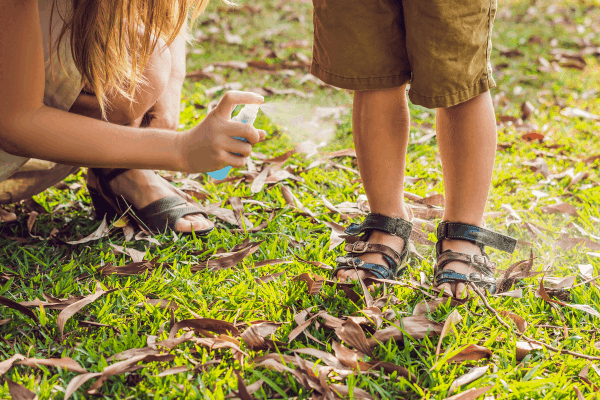 What are some safe store bought natural bug sprays?
This DIY natural bug spray is awesome for repelling mosquitos, flies and ticks! However, if you decide you really don't want to make your own and want to go the store bought route, here are some of the few natural bug sprays that I actually trust:
Sky Organics Organic Bug Spray
Babyganics Natural DEET-Free Insect Repellent
What are the best oils to use?
Citronella is very well known as a great insect repellent, but I have added several others that have been known to be effective as well.
I chose to use peppermint, geranium, lavender, rosemary, clove, and tea tree in addition to citronella but it's very easy to switch some out if you don't have them all.
However, I highly recommend at least using citronella, peppermint and rosemary, and if using solely for repelling mosquitos, lemongrass.
The recipe below is just what I have used and had great results with!
How To Make Homemade Bug Spray With Essential Oils
For this bug spray you will need:
4 oz glass spray bottle

Distilled water
1 tsp Glycerin
20 drops citronella essential oil
10 drops each of peppermint, geranium, lavender, rosemary, clove and tea tree essential oils
(optional) 10 drops lemongrass essential oil
This spray is super simple to make. Simply add in your essential oils then fill your bottle halfway with witch hazel. Fill it up the rest of the way with distilled water. Add in the glycerin and that's it!
NOTE: I put lemongrass as an optional oil because even though it is a great mosquito repellent, it has also been known to attract bees, so just keep that in mind if you are allergic to bees.
Related Articles:

DIY Non-Toxic Foaming Hand Soap
What To Use Essential Oils For (What Exactly Are Essential Oils?)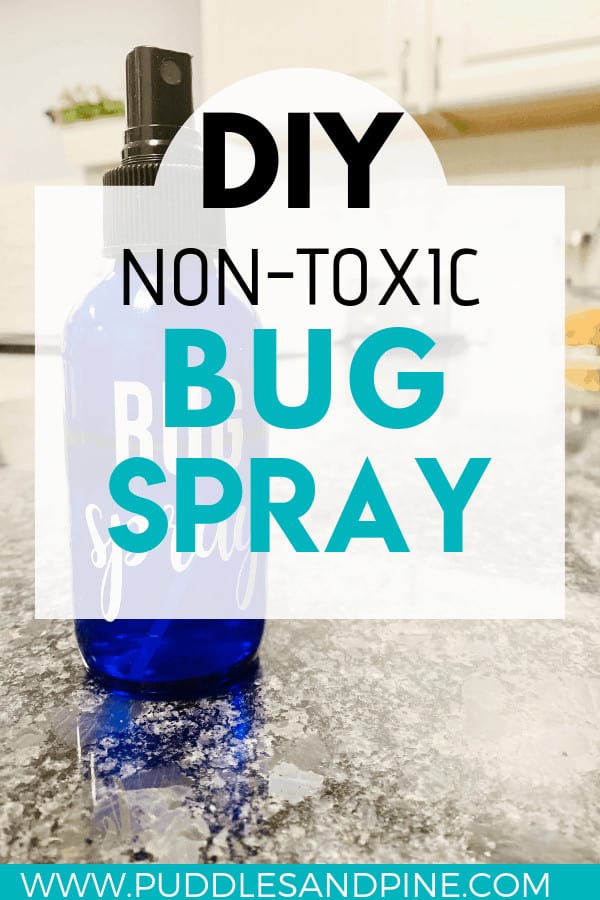 Homemade Bug Spray With Essential Oils