Maximize your savings and learn how to make money with Ibotta!
Ibotta is one of the best apps to save extra money on everything from groceries to restaurants. This app makes it so easy to earn extra money while shopping and it requires zero coupons!
Keep reading to learn more about how to earn money with Ibotta.
What Is Ibotta?
Ibotta is a FREE app that allows you to get cash back on items you buy. There are rebates available at 300 different stores. Here's how it works:
Download the Ibotta app for free. Click HERE to do that (it works whether you're on the computer or on your smart phone).
Open the app and browse through the available rebates, selecting any rebates for things you were going to buy anyway. (You can select the rebate by tapping the plus sign.)
Shop at the store like you normally would.
snap a photo of your receipt and upload it.
Get paid.
Ibotta works at TONS of different kinds of stores… grocery stores, pharmacies, clothing stores, restaurants, convenience stores, home improvement stores and even online. It works for brand name, store brand AND "any brand" items too.
Honestly, I've only come across one store we shop at that Ibotta doesn't work for and that's because it's a very small chain and mostly local.
So anytime we shop, I check to see if there's a rebate before we even leave the house!
I use it mostly for grocery shopping and save several dollars each week, but I've used it for non-grocery items too.
I've gotten rebates on toothbrushes, paper towels, toilet paper, dog food, baby items, and tons of other items.
Here is a short video that gives an overview of how it works:
How Do You Save Money With Ibotta?
The way you save money is by using these rebates on products you were going to buy anyways.
For example, just the other day I was doing some shopping at Target and I saw that there was a rebate for $1.00 off granola bars. I already had granola bars on my list because I stash them in my purse and diaper bag for our boys when we're out and about. So since I was going to buy them anyways, I saved an extra $1.00 just by checking Ibotta.
Sometimes there is a rebate for a certain brand and other times a rebate will work for any brand as long as the item falls under a certain category.
So there will be times when I can use a rebate for a more expensive name brand and it makes it the same price or sometimes cheaper than a generic brand item.
(This works especially great on items like peanut butter because my hubby is a bit of a brand snob and HAS to have Jif peanut butter)
Be careful though, it is easy to find a rebate for something you weren't planning on buying and make an impulse buy.
This is fine if it's something you know you were going to buy eventually down the line, but this will usually negate your overall savings because you are still buying something that is not on your list.
I have done this many times and when you sit down and look at your list and realize you bought more than you intended, then those savings you earned don't add up as much as they could.
Tips and Tricks To Maximize Your Savings And Make Money With Ibotta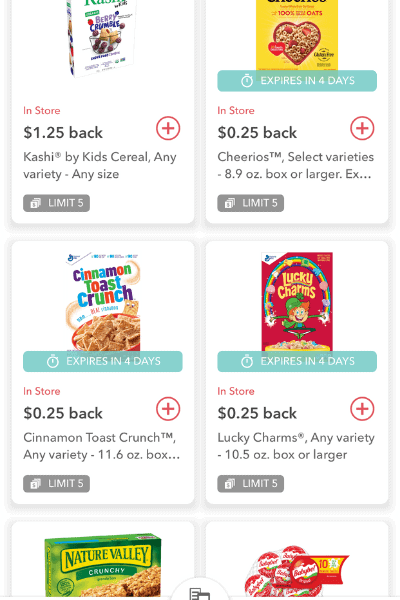 Link Your Loyalty Card
Ibotta has a list of preferred stores that they work directly with and if you shop at any of these stores, you don't need to upload your receipt every time.
All you need to do is link your loyalty card with the store you shop at and it connects your purchases. Check this list to see if you shop at any of these preferred stores.
If you do then follow these steps:
See if you shop at any of the stores on this list.
If you do, find that store within the app and tap the green "Verify Purchases" button at the bottom of the screen. Scan or enter your loyalty card number.
Watch For Recurring Rebates
Rebates are not generally a one time use offer, they are actually available for a certain promotional period.
If you redeem a rebate, it will show back up 2 to 3 days and you can redeem it again! This works especially great if it's a good rebate and the item happens to be on sale, then you can take advantage of both multiple times depending on how long the sale lasts.
Ibotta has a rule of "one receipt per rebate," meaning you cannot submit the same receipt for multiple identical rebates.
You can, however, go back to the store a couple days later and buy it again, then redeem the rebate a second time.
Shop At The Dollar Store
Did you know that Ibotta works at dollar stores?!
The dollar store I have near me is Dollar Tree, and they sometimes carry items with a rebate of $1.00 or more, meaning once you redeem the rebate, that item is free or you would earn a profit! These are some of my favorite rebates, especially when they are recurring.
Stack Your Rebates
There are almost always rebates for generic "any brand" items that you can use together with a brand name rebate on the same item.
For example, I recently had a rebate for $2.50 on Tyson All Natural frozen chicken as well as a $0.75 rebate for "any brand" frozen chicken.
I was able to use those together on the same item for a total savings of $3.25!
Watch For Sales
As I mentioned before, if you take a look at your store's sale ad first and then go through Ibotta to look for rebates, you can sometimes find a rebate for an item that is already on sale, thus making your rebate go even farther!
You can also find rebates for an item that says "any size" so if you find an item like a single serve bottle of juice, you can use a rebate on that brand of juice that doesn't specify the size and get that single bottle for very cheap or sometimes free!
Hold Onto Your Receipts 
You can redeem a rebate up to 7 days AFTER making your purchase.
So once you make your purchase, redeem the rebates you already found and hold on to your receipt.
Then check the app again in a few days and see if there are any new updated rebates that weren't there when you initially made your purchase.
You can often upload your receipt again and redeem those new rebates if you already purchased the item.
Sometimes it helps to keep these receipts in a coupon folder or regular file folder and date them so you can find them easily when you're ready to check for new rebates.
It might feel a little tedious, but the savings definitely add up!
Shop Mobile
Ibotta doesn't only work for shopping in store, you can shop online and get cash back too!
For example, in the photo below, you can see that right now they are featuring a 5% cash back offer for Joann Fabrics.
They have an online shopping tab where you can find hundreds of online stores with cash back offers, so if you plan on doing some online shopping, you can check Ibotta first and see if they have any cash back offers.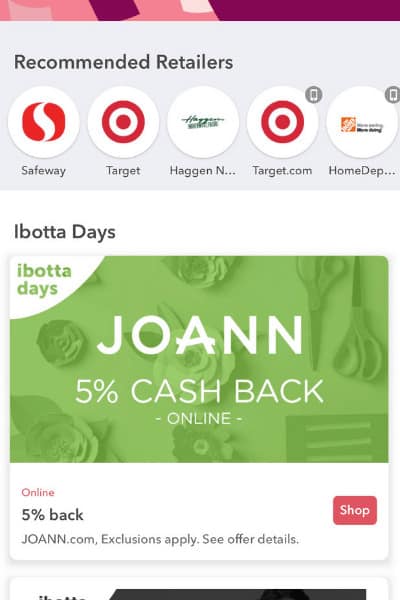 Watch For Sign Up Deals
Ibotta regularly has special rebates when you sign up for a service or subscription of some kind.
For example, at this present time, there is an offer for $15.00 cash back when you sign up for Hulu Basic. So if you were thinking about cutting your cable and using Hulu instead (which is way cheaper) then an offer like that would be the perfect opportunity!
There is also a rebate for a $20 Amazon gift card when you sign up for a 1 year Amazon Prime membership through Ibotta.
So if you plan on starting any kind of subscription service, you can check Ibotta first and see if you can get cash back!
How Does Ibotta Make Money?
Sometimes when we hear about these apps and websites that offer significant savings, it's easy to think that there might be a "catch".
Nobody just gives away free money so how come Ibotta is doing exactly that? They have to make money too, otherwise it wouldn't be a profitable business.
Ibotta is essentially a marketing business. Whenever you shop with Ibotta, they receive a small commission from the merchant since they are marketing their product to you.
Ibotta makes money by generating new customers for its merchants so every time you buy something from an Ibotta merchant, Ibotta earns a type of "finders fee".
They then share a small part of that with it's users to entice them to continue buying the products.
Sometimes it take a little practice to get the hang of this app and get into the habit of checking it every time you go shopping.
Once you become consistent with it though, it really adds up! I love to use my earnings on special date nights or something extra fun!
If you want to start saving with Ibotta and earn up to a $20 bonus, you can sign up here!
Related Articles:
How To Make Money Online With Rakuten
How To Cut Your Grocery Bill In Half (And Still Eat Well)
4 Best Apps To Earn Money While Shopping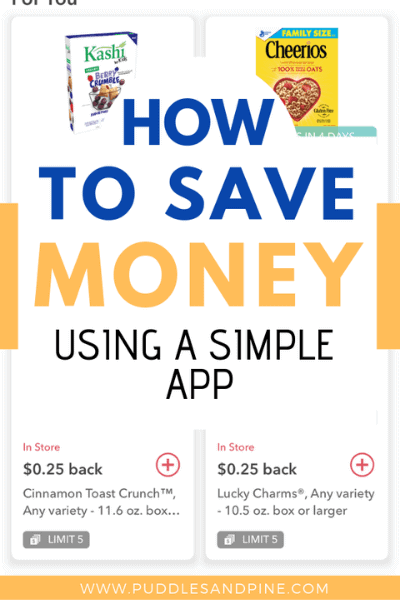 How To Make Money With Ibotta