Cut down on grocery spending without sacrificing healthy food.
Learn how to save money on groceries without coupons!
Check out these tips on how to save money on groceries!
All it takes is a little prep work and you can learn how to spend less money on your groceries without sacrificing the quality of your food.
You can eat better food for less money and have more money for the rest of your budget!
Behind a mortgage payment, groceries are easily the biggest part of most budgets, and for good reason.
We all have to eat!
The problem is that it can be very expensive to feed a whole family, especially if you want to cut out unprocessed and unhealthy food.
 I have always had a hard time staying within a food budget because I am VERY susceptible to buying whatever sounds good at the time I am grocery shopping (my husband is even worse, which is why I leave him home with the kids now!).
The last few months I have been experimenting with different ways to save money on groceries and I have been pleasantly surprised by the outcome.
I have dramatically decreased our spending so much that I have cut our grocery bill in half and haven't sacrificed the quality of our food at all.
In fact, we are eating better food now!
How To Save Money On Groceries Every Month
Some of these are easy changes to make and some may not be for everybody, but these are just what has worked for our family and I intend to continue doing.
So if you are ready to cut your grocery bill in half, try these out!
This post contains affiliate links.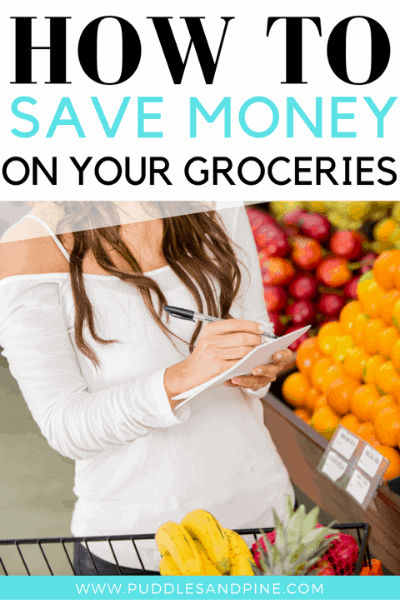 1. Meal Planning
Ok, I know this one is everywhere and it's not exactly a big secret that meal planning will help you stay on track when buying groceries, but it's true.
Meal planning will most definitely save you money because you will have a list of exactly what you need and you won't be tempted to eat out because you have a plan for that day already.
Grab a meal planning notepad or meal planning board to help you figure out a plan!  A grocery list is helpful too.
NOTE – Make sure you take snacking and desserts into account. Some people choose to omit them altogether but that is just completely unrealistic for my family since we like our snacks and desserts quite a bit. So I make sure to include snacks in my weekly grocery list or make a plan to make my own.
I also like to make an extra large batch of banana chocolate chip cookie dough (sweetened with stevia so they aren't THAT bad) to keep in the freezer.
Then I just pull out a little bit at a time for baking throughout the month.
2. Invest In A Food Slicer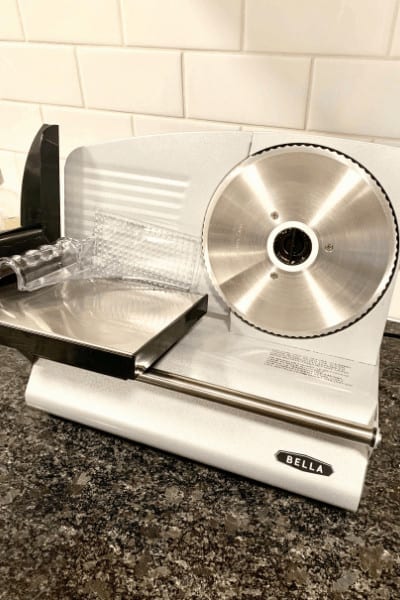 A food slicer is probably one of the best purchases we ever made.
This slicer is so incredibly versatile and useful for pretty much anything.
We like to buy pre-cooked, unsliced meat at Costco, like peppered turkey or roast beef, that is only a few dollars per lb and use the slicer to slice it extra thin for sandwiches.
We can then freeze it and pull out just what is needed for a few days.
This saves a lot of money because that same meat is at least twice as much at the deli counter.
You are simply paying extra for the convenience of having it pre-sliced.
Same thing for cheese, you can buy a large brick at Costco and slice it all yourself and store it in a plastic bag for later.
Buy plastic food storage bags in bulk or on subscription so that you can save on them as well.
We use it for all kinds of things, like summer sausage, veggies, bread..
3. Buy Meat In Bulk
This step may not be for everyone, especially if you are vegetarian or vegan, so if you are, then just skip this part.
This requires some money up front but it definitely saves you money in the long run, so it just means some planning ahead.
Watch your store's ads and when you see a really good meat sale, buy as much as you can afford!
We caught a good chicken sale about a month ago where chicken breasts were $1.28 per lb so we bought about 40 or 50 lbs.
We prepped it all into vacuum sealed bags and packed it in the freezer so we are set for at least a few months.
We also made sure to hit sales after the holidays and scored good prices on a couple turkeys and spiral cut hams to throw in the freezer as well.
Another thing we did was we bought a quarter of grass fed, pasture raised beef from a local farm.
We were able to get the beef for $4.50 per lb and it came cut and vacuum sealed in a variety of roasts, steaks and ground beef.
While this cost some money up front, it actually saved us a lot of money on our groceries for at least the next 6 months because we won't be buying meat every week.
Especially since $4.50 a lb for grass fed, pasture raised beef is a very good deal, considering we got cuts like prime rib, tri tip roast, beef tenderloin and New York steaks.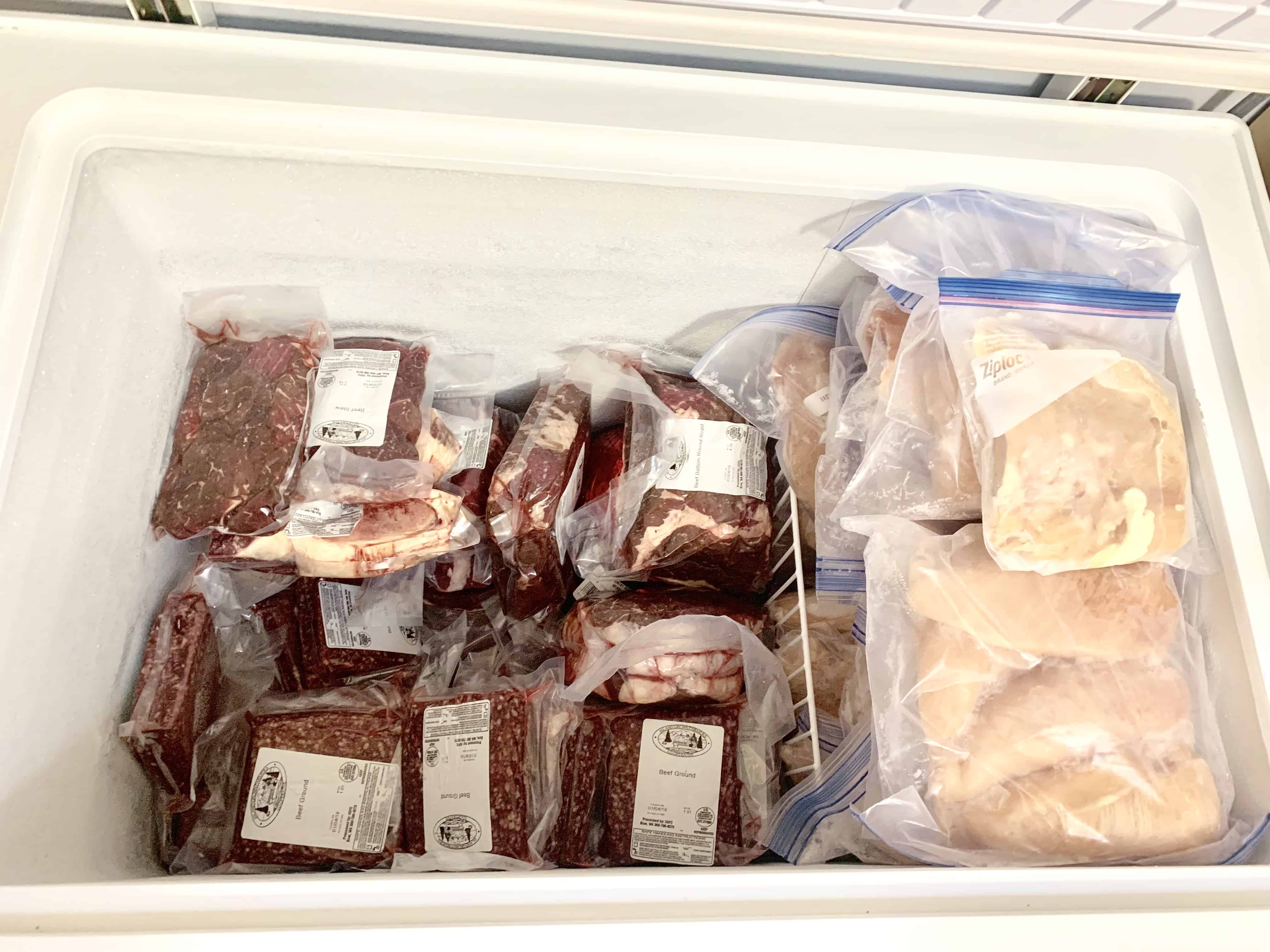 There are ways of cutting those costs too, like splitting it with someone.
We split our quarter with my parents since we couldn't fit all that meat in our chest freezer and we just didn't need that much.
Plus it divided our cost in half while still getting a killer deal!
I realize that not everyone is in a position to put a lot of money up front and trust me, I get that. We usually have to budget carefully to make sure we have money set aside for this.
But I would strongly encourage you to stock up when you see a good sale because you never know when it's going to be that price again.
So you can plan your meals around whatever meat you have in the freezer and don't have to worry about buying it when it's full price just because you're craving chicken pot pie for dinner.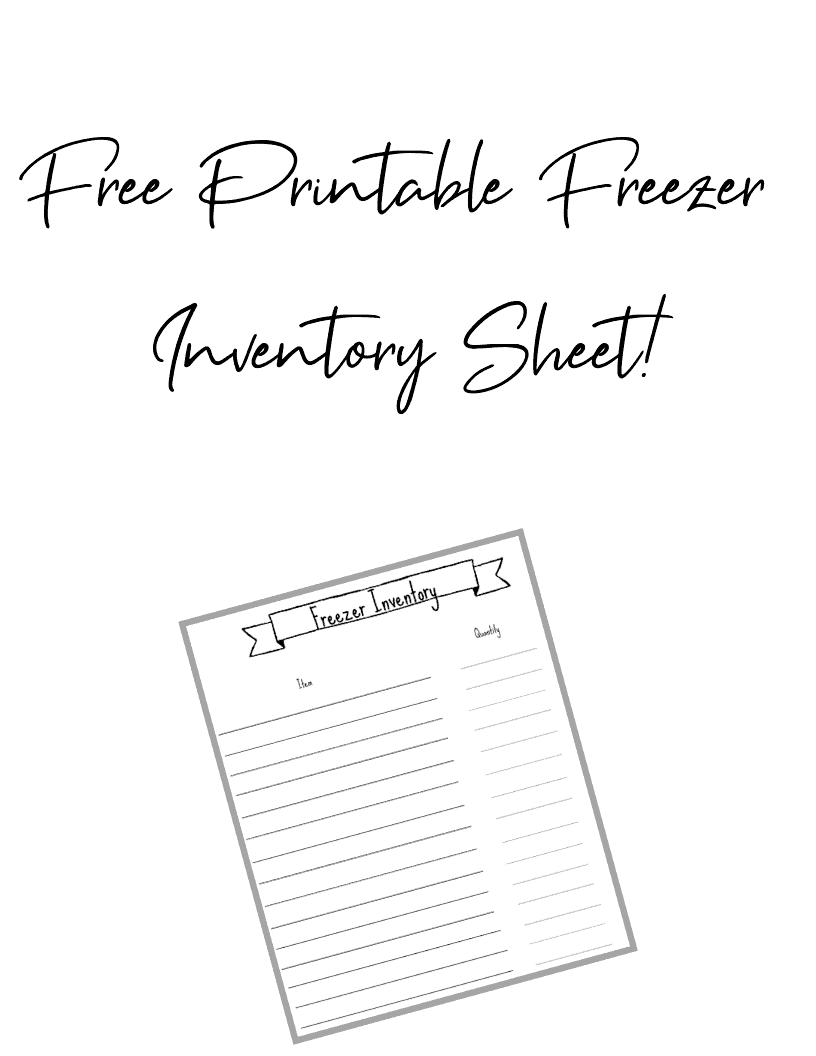 4. Don't Pay For Convenience
It seems backwards but buying smaller portions of food actually tends to be more expensive than bigger portions.
You're simply paying a convenience fee to have it cut smaller, sliced, bagged etc. If you are buying produce, buy it fresh and whole rather than bagged or cut up. It seems nice to have it all prepared for you but if you are serious about saving money than you gotta say no.
Plus it's generally healthier for you because bagged produce is usually processed and treated with preservatives.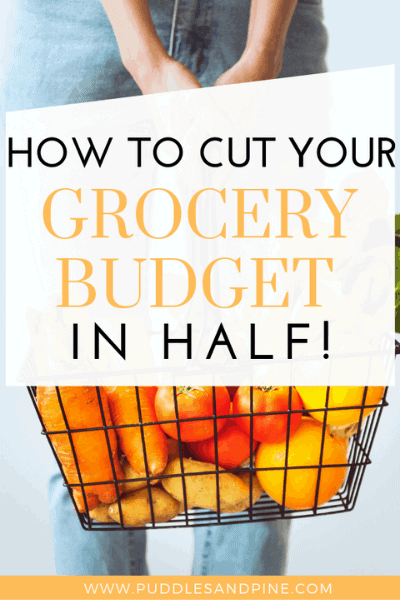 5. Get Cash Back
 You can also use certain apps and websites to get cash back on whatever you buy.
I use this every time I go shopping and I have gotten several payouts so far.
For grocery shopping my ultimate favorite is Ibotta, because they have tons of stores in their database and I almost always get cash back from every shopping trip.
It's super easy and doesn't require any work at the actual store, you just have to make sure you don't throw away your receipt right away.
Then if you bought anything that is on their list of eligible items, you take a photo of the receipt and redeem it! Super easy.
Plus they have a great referral program so you can invite your friends and you will make some extra cash while they save money too. Win-win. If you want to try it, you can check it out here.
Another one I really love and use consistently is Rakuten.
This one doesn't work as well for in store use but I use it every single time I shop online, which sometimes includes groceries.
I love to buy groceries through Amazon's Prime or through Safeway pickup when I just don't feel up to going out to the store or for just basic household items we might need.
If you live in an eligible area and you have Amazon Prime than you could also use Amazon Fresh to have fresh food delivered to you as well. I go into different grocery delivery services on another post if you want some more details.
If you are shopping online for groceries or even just anything, Rakuten usually gets you some kind of cash back.
I even installed the button in my web browser because I'm paranoid I'm going to forget to use it whenever I buy something online.
Now it pops up every time I'm about to check out somewhere!
I hope these tips help lighten your grocery budget a bit, it certainly has for us.
Again, some of these may be unrealistic for some people but there are tons of other methods you can learn on how to save money on groceries that simply take a bit of planning.
Good luck!
Related Articles:
Make Money Shopping Online With Ebates
The 4 Best Grocery Delivery Services To Save Time And Money
How To Save Money Automatically With Digit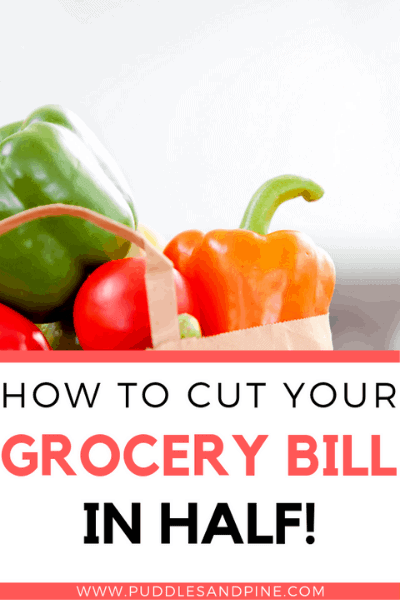 How To Save Money On Groceries (and still eat well!)