Non toxic DIY natural cleaning recipes without any harmful chemicals!  
 There's a ton of "natural" cleaning products out there but you'd be surprised how many of them still contain harmful chemicals.
I have experimented with a lot of homemade cleaning products and these are, by far, my favorite.
These are 100% non toxic cleaners with essential oils and are extremely effective and work far better than most store bought cleaners I've tried.
Keep reading to learn how to make these easy DIY natural cleaning recipes!  
This post contains affiliate links.
Harmful Effects Of Cleaning Products
 In 1976, the Toxic Substance Abuse Act was put into effect to try and regulate chemical substances in commercial products and enforce more strict testing requirements.
This sounds good in theory, but it grandfathered in over 80,000 chemicals into product production with little to no research, mainly using the LD50 test (Lethal Dose 50% test), not accounting for tumors, cancer, blindness, loss of hearing, sterilization, and other devastating side effects.
There are over 84,000 industrial chemicals used in everyday household cleaners and only a handful are regulated.
These chemicals are known to disrupt hormone production, cause immunity problems, contribute to asthma, allergies and learning disabilities, cause cancer, tumors, cell mutation, nerve damage, sterilization, and so much more, but you get the idea.
According to The American Lung Association, some products release dangerous chemicals like volatile organic compounds (VOCs). Other harmful ingredients include ammonia and bleach.
Even natural fragrances can react to these chemicals to produce dangerous pollutants indoors.
VOCs and other chemicals released when using cleaning supplies can contribute to chronic respiratory problems, allergic reactions and headaches.
Studies are underway to assess how these chemicals affect people who have asthma and other respiratory illnesses.
However, past studies link exposure to chemicals from cleaning supplies to occupational asthma and other respiratory illnesses.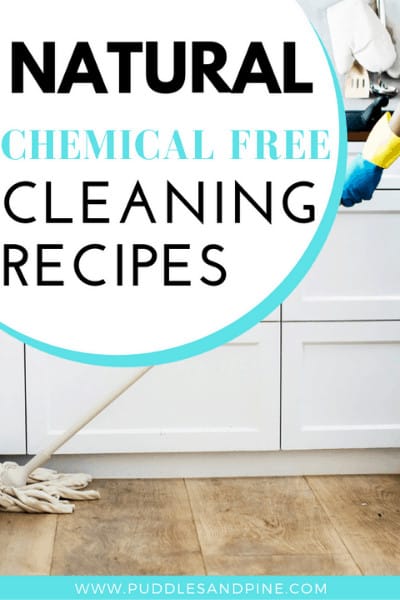 We Absorb Everything We Touch
  We can absorb anything through inhalation, ingestion and skin contact very easily.
Did you know that our bodies absorb up to 60% of what we put on our skin?
Or that children can absorb around 40% MORE?
It takes less than a minute for harmful chemicals to enter the bloodstream after making skin contact and are extremely dangerous when swallowed.
There's a reason the number for poison control is on the back of cleaner bottles, if your child swallows some Lysol you're gonna be calling poison control and going straight to the hospital because it's no joke. 
Top Cleaning Chemicals You Should Avoid
Sodium Lauryl Sulfate
 SLS is found in all kinds of things, like shampoo, hand soap, face wash, toothpaste, and detergent.
Not only is it extremely drying, but it has been known to cause damage to the kidneys/liver, teeth, endocrine system, causes hair loss, cataracts, ulcers, major toxicity, headaches, nausea, coughing, congestion, and more.
Propylene Glycol
Did you know this is a main ingredient in antifreeze?
It's one of the first things I learned about in beauty school because it's in so many skin care products as a solvent. 
It has been shown to cause kidney and liver cancer, dermatitis, respiratory and neurological issues.
Talc
This one is scary because it's found mostly in baby and beauty products.
There was recently a lawsuit against Johnson & Johnson that revealed that talc was the cause of ovarian cancer….needless to say, I switched to a talc free baby powder after that.
Parabens
Parabens are usually well disguised in ingredient labels. They mimic female estrogen, disrupting hormones and have been found in breast tumors.
They are commonly used as preservatives found in many cosmetics and personal care items approved by the FDA.
Aluminum
Aluminum has been shown to cause extensive nerve damage and coat neurons.
There is a strong link between Parkinsons and Alzheimers disease and aluminum exposure, which also heightens breast cancer risk, and other issues.
Aluminum is usually found in deodorant and is a big reason why I stopped using conventional deodorant. You can read about what I use instead here.
Triclosan
This chemical is found in most antibacterial products. Hand soap, hand sanitizer, and even toothpaste.
This has been shown to cause DNA mutation, which can lead to cancer. It also affects hormone production and leads to birth defects.
Phthalates
This is found in many plastics and personal care products. It has been known to mimic estrogen, causing hormone disruptions
Formaldehyde 
Formaldehyde is a highly toxic chemical associated with brain damage, cancer, allergies and auto-immune disorders.
It has been used for decades as an embalming fluid and it is a recognized carcinogen by the National Cancer Institute.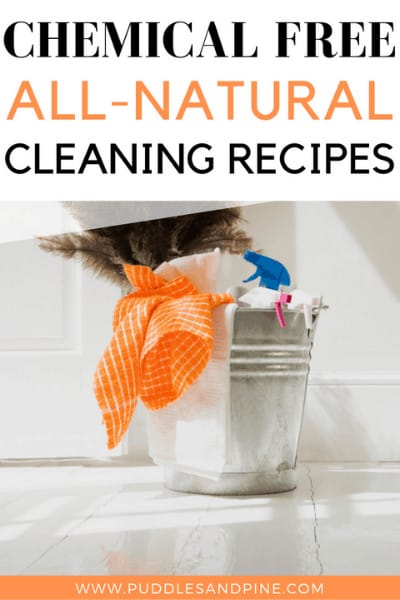 My #1 Cleaner Recommendation 
Ok, if you've been thoroughly grossed out and are serious about switching out all the harmful chemical filled cleaners in your house, you're gonna want to find something that doesn't have all those awful ingredients.
Unfortunately, even a lot of "natural" cleaners can still have harmful ingredients in them, they are just well disguised.
My absolute favorite product for cleaning literally everything is the Thieves All-Purpose Household Cleaner.
It not only works a million times better than other cleaners I have used, is 100% non-toxic and smells AMAZING, but it is significantly cheaper too.
Check it out: Thieves Cleaner retails for cheaper if you have a wholesale membership for the 14.4 oz bottle.
It's extremely concentrated so you only use a capful or 2 based on how strong you want your cleaner to be.
There are about 60-65 capfuls in each bottle, so at wholesale price it's going to be cheaper versus retail.
Most standard store bought cleaners come in a 32 oz bottle so just to compare that way, if you combine 2 capfuls of concentrated thieves cleaner with 4 cups of water to make 32 oz – that's an amazing deal!
The best part about it is your kids could literally drink this stuff and they would be just fine!
I don't recommend it though, it doesn't taste very good. Don't ask me how I know!
What is Thieves?
Thieves essential oil is a blend of clove, cinnamon bark, rosemary, lemon, and eucalyptus.
This blend is based on a historical account of a group of thieves in France who would rub these oils on themselves to protect them while looting victims of the black plague.
Pretty skeevy, I know, but Thieves, and the individual oils contained in this blend, have been tested and proven to be highly effective against many different kinds of bacteria. 
Young Living created a line of Thieves cleaning products including an all purpose cleaner, dish soap, laundry detergent, dishwasher detergent, wipes…there's even a Thieves produce spray!
Check out this video for a few recipes that demonstrates how versatile this awesome cleaner is!
I will be providing recipes with and without Thieves cleaner but I recommend getting it because it is extremely effective and the recipes that utilize it definitely work and smell amazing.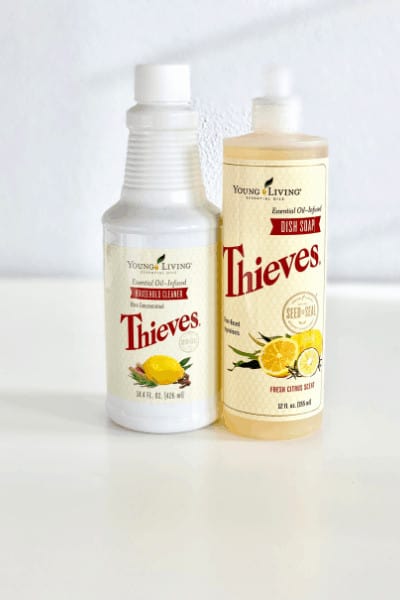 Young Living also makes an AMAZING Thieves dish soap and Thieves laundry detergent that is absolutely awesome and, just like the thieves cleaner, they are very concentrated so they are also very cost effective and will last you a long time.
I always dilute the dish soap down and get 3 times as much!
You can see how I incorporate the thieves laundry detergent in my homemade liquid laundry detergent recipe!
Other Natural Cleaning Alternatives
If you aren't quite ready to start using the Thieves cleaner, there are several other options you can use as well.
If you don't want to make your own cleaning products, Seventh Generation makes a good all-purpose cleaner and they are one of the cleaner options available.
I love using Grove Collaborative when looking for natural cleaning options because they are generally a better deal and they have the cutest cleaning accessories like dish towels, gloves, brushes, sponges (I especially love their biodegradable coconut scouring pads!)
They even have paper products like paper towels, napkins and toilet paper. I use it mostly for those items but they have almost every type of natural cleaner you can think of, just make sure it doesn't contain any of those bad ingredients listed above!
Ok, let's get into the cleaners!
DIY All Natural Cleaning Recipes With Thieves
All-Purpose Cleaner
1 capful Thieves cleaner (2 capfuls for a heavy degreasing cleaner)
water
Add 1 capful of concentrated Thieves cleaner to spray bottle and fill to the top with water. Simple!
Glass And Window Cleaner
1 capful Thieves cleaner
5 drops lemon essential oil
1 tsp white vinegar
water
Combine ingredients in spray bottle and fill to the top with water
Wood Furniture Cleaner
2 capfuls Thieves cleaner
10 drops orange essential oil
1 cup olive oil
Distilled Water
Combine ingredients in spray bottle and fill the rest of the way with DISTILLED water
Here is a fun graphic that you can pin so you have them all in one place!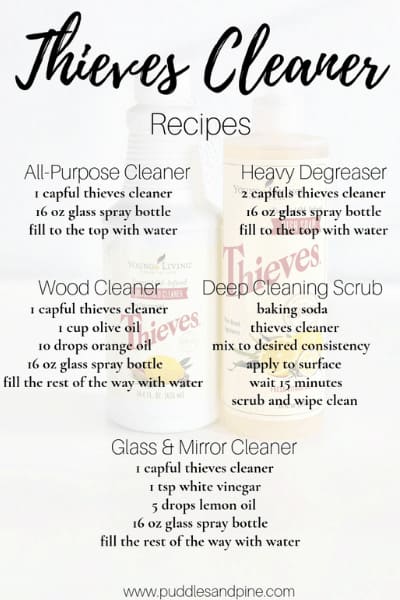 DIY Natural Cleaning Recipes Without Thieves
Glass And Window Cleaner
½ cup white vinegar
½ -1 cup water
Combine in glass spray bottle. If you find that you have a problem with streaks then mix 1 quart of this recipe with 1 cup vodka.
Clogged Sink Cleaner
½ cup baking soda
1 cup vinegar
1 gallon boiling water
Pour baking soda into the drain, add vinegar and allow to bubble and react for 15-20 minutes. In the meantime, boil 1 gallon water then flush the drain with the boiling water and repeat if needed.
Glass Stove Cleaner
1 part baking soda
1 part fine salt
1 part water
Mix all ingredients together to form a paste. Put the paste on the glass stove top and allow to sit. Gently scrub with a soft cloth.
Happy cleaning!
Related Cleaning Articles:
DIY All Natural Bleach Alternative Recipe
Homemade Non Toxic Laundry Detergent
DIY Non Toxic Foaming Hand Soap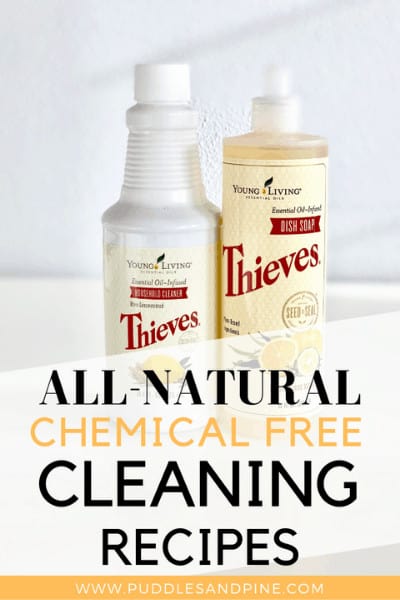 DIY All Natural Cleaning Recipes (Plus 8 Ingredients You Should Avoid!)