When it comes to topping your smoothie bowls, there are numerous options to add flavor, texture, and visual appeal. But at the same time, so many great toppings add in wonderful nutrition, such as superfoods.  Here are some ideas!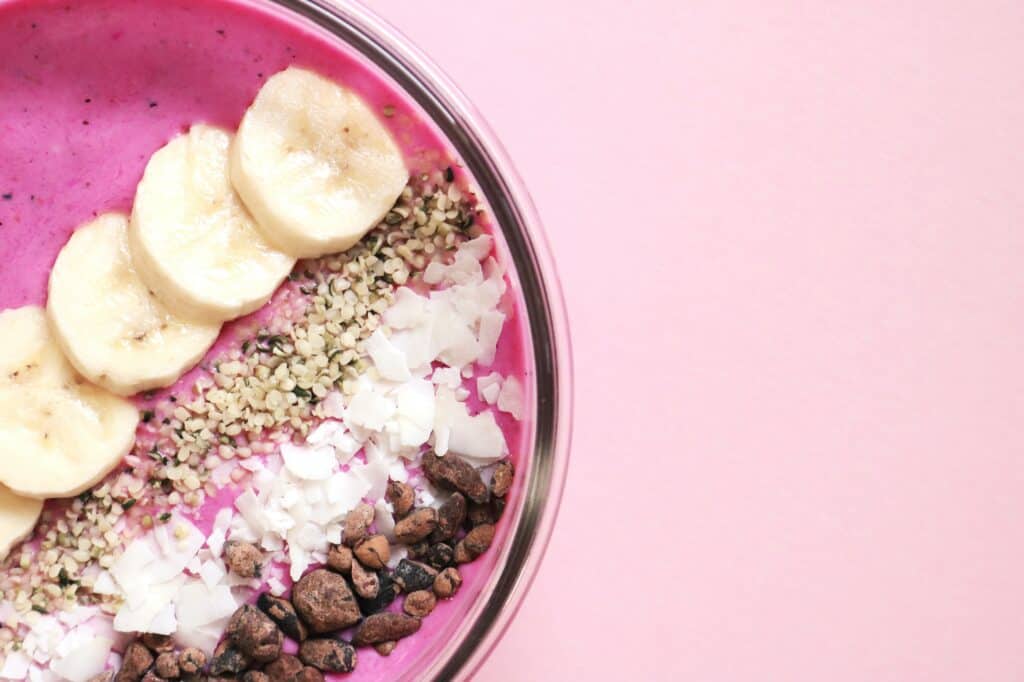 Fresh Fruit: Sliced strawberries, blueberries, raspberries, banana slices, or diced mango can add a burst of freshness to your smoothie – and is a great way to add a pop of color!
Nuts and Seeds: Sprinkle chopped almonds, walnuts, pecans, or pumpkin seeds for a crunchy element. They also provide healthy fats and additional nutrients.
Granola: Add a sprinkle of granola to give your smoothie some extra crunchiness. Choose varieties with minimal added sugar or make your own at home.  You can also make your own homemade granola!
Coconut Flakes: Toasted or untoasted coconut flakes add a tropical touch and a delightful texture to your smoothie.
Hemp hearts: These little seeds have a nutty flavor and a soft but chewy texture.  They also had in a boost of protein, omega-3 and omega-6 fatty acids.
Chia Seeds: These tiny seeds can be sprinkled on top of your smoothie to add a dose of fiber, omega-3 fatty acids, and a fun poppy texture when they absorb liquid.
Flax seeds: Flax seeds or even ground flax seeds are also packed with nutrients, and are a great source of fiber.
Cacao Nibs: If you enjoy a touch of chocolate flavor, cacao nibs are a great choice. They provide a slight crunch and a rich chocolatey taste.
Yogurt or Whipped Cream: For a creamy finish, add a dollop of Greek yogurt or whipped cream on top of your smoothie. This works particularly well with dessert-like smoothies.
Fresh Herbs: Some fresh herbs like mint, basil, or cilantro can enhance the flavor and aroma of your smoothie. You may want to use them sparingly to avoid overpowering the other ingredients.
Bee Pollen: This superfood can add a slightly sweet and nutty flavor to your smoothie. It's also thought to have numerous health benefits!
Edible Flowers: For an elegant touch, you can add edible flowers like pansies, nasturtiums, or violets to your smoothie. Ensure that the flowers are safe for consumption and have not been treated with chemicals. You can often find these at farmer's markets or health food stores.
Remember, the choice of toppings depends on your personal preference and dietary restrictions. Be creative and experiment with different combinations to find the ones you enjoy the most!