Homemade Natural Cleaner For Makeup Brushes
This DIY natural makeup brush cleaner is good for your face and your brushes.
A natural makeup brush shampoo is important and not many people realize how much impact it has on their makeup application and skin care.
Keep reading to learn how to make makeup brush cleaner with natural ingredients!
This post contains affiliate links.
Why is it important to clean your makeup brushes?
Growing up with an oily skin type, I've had my issues with acne.
It took me a long time to figure out how to care for my skin and how to recognize if acne flare ups were hormone related or skin care related.
Not long ago, I had a significant flare up and I could not figure out what was going on. I knew it wasn't hormonal and I had been using good all natural products that I knew my skin loved…
So why was I getting breakouts?
I realized one day as I was putting on my makeup that it had been a while since I had washed my makeup brushes and a light bulb just clicked on in my head.
Of course my skin was angry, I was spreading old makeup and bacteria all over my face day after day!
As an Esthetician, I'm ashamed to say that it took me a while to figure that one out.
Once I got into the habit of washing my brushes often and regularly, my skin was much happier and my makeup looked loads better too.
Not a lot of people realize how important it is to clean their makeup brushes because we don't tend to associate it with skin care.
But really, it makes sense.
We spend time practicing good skin care to make sure our skin is nice and clean and moisturized, only to apply makeup with a contaminated brush covered in bacteria, essentially undoing the process of washing our face in the first place.
Depending on what type and how much makeup you use, it is recommended that you clean your makeup brushes anywhere between daily and once a week.
I use mineral powder foundation a few days out of the week so I can get away with weekly washings, but if you use a heavier liquid foundation every day it might make more sense to wash your brushes at least twice a week if not daily.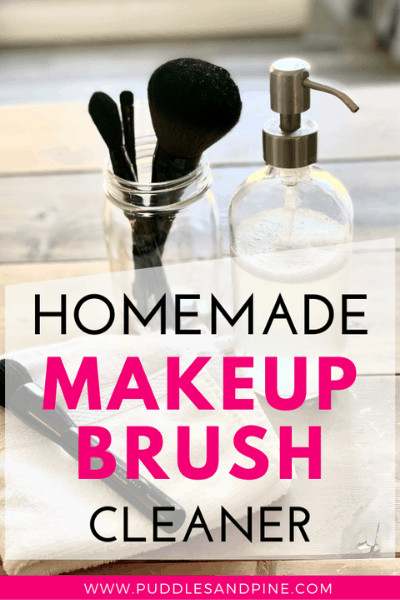 Why not use store bought makeup brush cleaner?
So why make a homemade brush cleaner? Why not just buy some in a store or do what a lot of makeup professionals recommend which is to use a cheap baby shampoo?
The same reason I won't use that baby shampoo on my babies.
Most store bought makeup brush cleaners and even baby shampoos are full of harsh detergents and ingredients and most "natural" brush cleaners tend to be pretty pricey, plus they still have artificial preservatives in them.
It's also not great for your brushes. If you have nice makeup brushes, you want to make sure to take good care of them and get them clean without drying them out.
We need to remember that those makeup brushes touch our skin, so if you wouldn't use it on your face, it shouldn't be used on your brushes.
Your skin and your brushes will end up thanking you for it.
The best part about making your own brush cleaner? It's CHEAP!
Everything I used to make this cleaner were items I already had on hand from other DIY recipes so for me it was free!
If you like to make other homemade cleaners and beauty products, you will likely have these on hand too.
How To Make This DIY Natural Makeup Brush Cleaner
Like I said before, this brush cleaner ends up being very cheap in the end, even if you have to buy all the ingredients you will have enough to make several batches as needed.
You'll need:
1 cup distilled water
1/2 cup witch hazel
1 tsp argan oil (this can easily be substituted with another oil like almond, olive, grapeseed etc. it's just what I had on hand)
2 tsp castile soap
Add all the ingredients to a bottle or jar and stir to combine. The distilled water will help prevent bacteria growth for a while but if you want it to last even longer then I recommend storing this in the fridge.
When you are ready to wash your brushes, just dampen them with water, pump or pour a little bit of cleaner onto the brush and either work it in with your clean, freshly washed hands or you can use a silicone brush cleaning mat to help loosen any leftover makeup.
I also love using this battery operated makeup brush cleaner. I just pour a little bit of the cleaner into the bottom of the bowl and it gets them so clean and soft.
You can see it in action in the video below:
Look how much makeup was removed from my foundation brush in just a few seconds.
Pretty gross.
In all honesty, this natural makeup brush cleaner worked way better on my brushes than any expensive store bought brush cleaner ever has, and my brushes were so incredibly soft afterwards!
Want to incorporate more natural products into your makeup routine? Try this DIY makeup setting spray that not only makes your makeup look great, it's good for your skin too.
If you try this then let me know how you like it!
Related Articles:
DIY Natural Whipped Shave Cream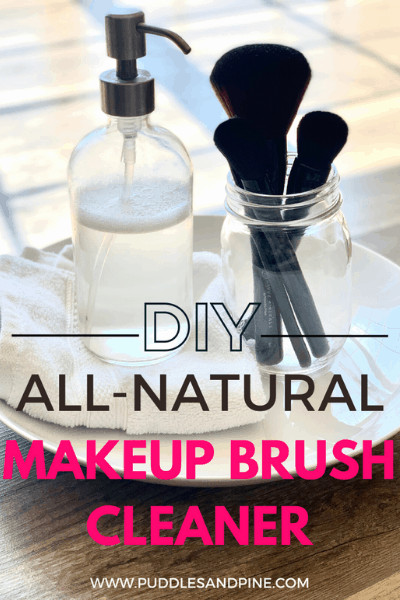 DIY Natural Makeup Brush Cleaner