How to make money with surveys online in just minutes a day!
Wouldn't it be nice to make money without leaving the comfort of your home? Learn how to earn money online with survey sites while also influencing the design of new brands, products or opinions at the same time?
Using online surveys to make extra cash can help bring in a little side income or even just become something fun to do while you're watching TV!
Keep reading to learn how to make money with surveys online and other various activities.
What Are Online Survey Sites And How Do I Make Money?
Online survey sites are exactly what they sound like, websites that offer you incentives for answering simple questions.
Filling out surveys can be one of the easiest way of making money online, so I'm gonna be going over some of the best site options out there.
It requires some patience, as it can take some time, but can often be a quick way of making some easy cash while watching TV or just setting aside a few minutes each day.
One thing to remember though….Surveys are definitely not a get rich scheme – it certainly cannot replace a full time job – but many people manage to turn a few minutes of surveys a day into extra spending cash and gift cards.
What's not to love about that?
It's easy to focus on just one site but if you sign up for several sites, then you will increase your chances of making more money.
By joining different sites, you will also be able to see a variety of different activities as well, such as surveys, videos, product testing, etc.
I've tried several sites to test them out and they are definitely not all equal.
The websites below are the ones that I've actually been able to be successful making money with and have the best surveys and activities.
Here are my favorite survey websites for making extra cash!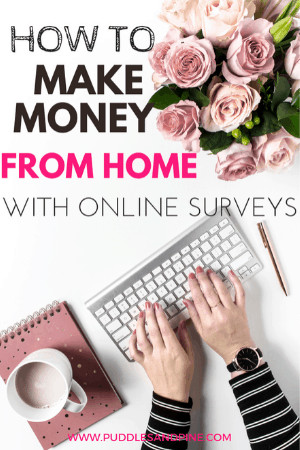 Legit Online Survey Sites That Will Pay You For Your Opinion
Survey Junkie
Survey Junkie is a great way to earn extra cash when vegging on the couch. It's super easy to use and the surveys are very simple.
With Survey Junkie, the questions are a bit more focused on particular brands and products.
I have taken several surveys where a brand is about to launch a new product and they want to know how consumers will take to it so they ask questions about how I think the packaging looks and if it's something I would try.
Before you click on a survey, you'll see how many points it's worth and how many minutes it will take.
They're usually between 10 and 200 points, and they can take you anywhere from a few minutes to 20+ minutes.
Once you've taken enough surveys and have reached the $10 minimum, you can redeem the survey points for cash or gift cards.
Some of the gift cards they offer are from big names like Amazon, but if you'd rather just cash out, they'll also just send the money right to your PayPal account (which is what I tend to do).
Survey Junkie is 100% free and they make it easy to sign up with Facebook or your email address. Completing your profile will also earn you points right off the bat.
I particularly like that the website is super easy to use and that they don't spam me with a million emails. Plus, they offer so many surveys, it's hard to run out.
If you want to try out Survey Junkie, you can sign up here.
Swagbucks
One of the most popular survey sites, Swagbucks offers traditional surveys as well as a range of additional ways to make cash.
Filling out surveys will get you points called Swagbucks, which can be cashed out through PayPal or redeemed as gift cards to various places (including Amazon!).
They'll even give you $5 just for signing up.
Swagbucks is popular because they are a reliable site and because they offer several different ways to earn points, including playing games and watching videos.
The website is very straightforward and easy to use and a cool feature allows you to make money on your online shopping by offering a range of affiliate links.
By simply clicking on the Swagbucks link and shopping at sites like Amazon or Walmart, you will earn points (this is similar to how Rakuten, formerly ebates, works.
Be sure to check out my post on how to make money online with Rakuten).
One of my favorite perks of this site is the ability to monetize your internet searches, all you have to do is swap from Google or Safari to their own search engine.
The Swagbucks search engine (which is really just Yahoo) will pay you Swagbucks every time you search.
Swagbucks is free to join and they have a great app and a strong referral system.
If you want to try out Swagbucks, you can sign up here.
Product Report Card
Product Report Card is another fun site that offers cash for filling out surveys. Though some offers may require a purchase or some sort of sign up, but not all.
Some examples would be signing up for a social media website or a free trial for Netflix. They're all super easy and I've found a few for things I was interested in anyways.
You can choose to be paid in cash, in free products or in gift cards. (There is a $25 threshold for payout).
You can start earning money with Product Report Card right off the bat by filling out different profiles. These profiles will help the company know which surveys you're more apt to qualify for, so I would recommend doing as many of these as you can and the money you can earn from setting up your profiles ranges from 25¢ to $5.00.
One fun and unique thing about this site is that Product Report Card can also help you make money by helping you save money!
You can research just about any product at Product Report Card, find out almost everything about it, where you can purchase it and how much it costs.
If you want to try out Product Report Card, you can sign up here.
Vindale Research
One of the oldest and longest running survey sites, Vindale Research is a legitimate and reliable option for making some money from filling out surveys.
Vindale offers both traditional surveys and product testing which can make it a lot more interesting.
It's free to sign up, and surveys pay between $1 and $5 each and product testing starts at $5 and moves up from there.
There's lots of additional ways to boost your income on Vindale as well, including rewards for opening emails or watching advertising videos online.
The site pays out actual cash, and doesn't mess around with rewards, points or gift cards, which is appealing to a lot of users.
However, you'll have to earn $50 before you can get a payout, but that just makes it even more rewarding when you get a big check!
Sometimes you can get stuck filling out lengthy qualifying questions which take up to 30 minutes just to see if you're eligible for a survey, only to find out you're NOT eligible which can be a bit frustrating but that's not exactly uncommon on survey sites.
One nice feature is the ability to shop through Vindale, like Swagbucks, they often have offers available through affiliate links.
Before buying something new, it is worth signing into their easy to use website and checking if you can get it for less through Vindale.
There's also a daily consumer survey paying $1.50 which you can complete every day.
If you want to try out Vindale Research, you can sign up here.
InboxDollars
InboxDollars is another incredibly easy and convenient site to make some extra money online quickly, simply by just using the internet as you always do.
It's a very popular site that also pays in cash, rather than points, which makes it even more appealing to those who use it.
InboxDollars gives you options like watching videos, playing games, shopping online, browsing news websites, and of course, taking surveys to earn extra cash.
You also get a $5 bonus just for signing up, so I highly recommend trying it out even if they don't end up being one of your sites of choice, although it's definitely one of my favorites!
Their wide range of offers cover pretty much everything you can think of, so you can earn money from day one, with little effort, regardless of which activities you choice to focus on and it's easy to get sucked into all the different options they have.
I tend to spend the most time on this site just because I lose track of time!
If you want to try out InboxDollars, you can sign up here.
My Points
MyPoints is another survey site that's been around for a while, starting in 1996.
You can earn gift cards for taking polls and filling out surveys and once you complete your first five surveys, you'll earn a $5 bonus.
MyPoints rewards points can be redeemed in $5 increments, which works out to 700 rewards points. And you can redeem your points for gift cards or there is the option to get your rewards through paypal as well.
One bonus of this site is that you receive points even when you don't qualify for a survey, so it's never a complete waste of time if you can't get qualified.
It's an easy-to-use portal that offers multiple ways to earn points, including participating in polls and watching videos.
One downfall of this site is that MyPoints often connects you with surveys on third-party consumer marketing sites, so you'll often navigate away from the original site.
It's also sometimes tricky to qualify for certain surveys which can get frustrating after having that happen several times, so it definitely takes some patience.
If you want to try out MyPoints, you can sign up here.
Can You Make A Full Time Income Using Survey Sites?
The short answer is:
No.
Survey sites are not designed to replace your main source of income, it is meant to be a side gig for extra spending cash which is exactly what it ends up being for most people.
It is the perfect activity for those of us that have a multi-tasker mind and can't stand to sit still while watching TV, so it's easy to just pull out my phone or sit with my laptop and take a few surveys while I'm sitting.
So if you want to try your hand at making money with surveys, give one of these sites a shot!
After all, what is there to lose?
Related Articles:
Legit Work From Home Jobs For Stay At Home Moms
How To Use Rakuten To Make Money Online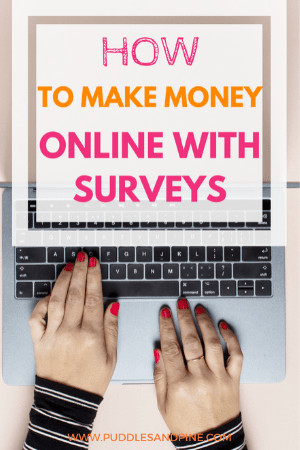 How To Make Money With Surveys Online