All natural DIY laundry detergent.
A fast and easy recipe for laundry soap with no harmful chemicals.
This homemade non toxic thieves laundry detergent is so incredibly easy to make and after using it, you won't want to go back to store bought versions.
This is a cheap and easy homemade laundry detergent that requires minimal effort and the best part? It only costs about 8¢ per load!
Keep reading to learn how to make the best homemade laundry detergent recipe!
Why make homemade natural laundry detergent?
Have you ever made homemade laundry soap before?
Homemade laundry detergent usually required grating and melting down bars of soap or creating a powder mixture that gets in the air when you're measuring out ingredients.
I'm not a big fan of either of those but I've tried them both. Over the years, I've made several different variations of homemade laundry detergent but was never really happy enough to stick with one recipe consistently.
I found myself going out and buying store bought laundry detergent just because I didn't want to grate one more bar of soap, no matter how much money it would save.
Last year, I received a recipe for liquid laundry soap that didn't require any grating and it was literally a simple mix and stir recipe.
I decided to try it and add some extra ingredients and after I used it in my first load I was hooked.
I don't think I'll ever go back to traditional homemade laundry detergent or store bought detergent!
This post contains affiliate links.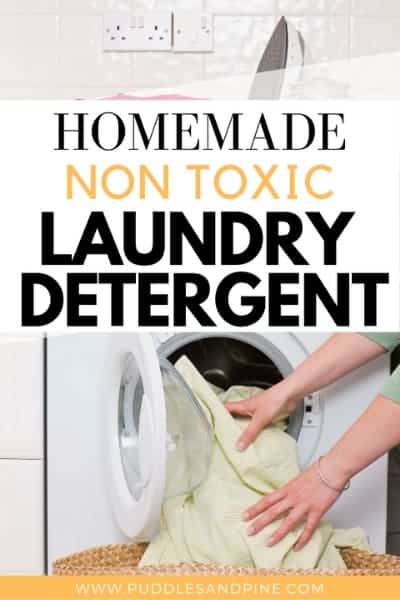 How Much Does This Homemade Laundry Detergent Cost?
The best part about this recipe is that, not only is it 100% non toxic, it's also incredibly affordable.
Let's compare store bought laundry detergent with this homemade non toxic laundry detergent to see how much each costs per load.
I'll be using Seventh Generation's laundry detergent as a comparison because that's what I was using prior to making this homemade version.
Seventh Generation Free & Clear Natural Laundry Detergent: $12.99 (at Target), 66 loads per 100 oz bottle.
Per instructions, you are supposed to fill to line to of the measuring cup for small loads and line 4 for large loads.
I almost always do large loads so I would measure to line 4. That equals to about 39¢ per load.
Homemade non toxic laundry detergent: (all prices are based on what I paid for each ingredient)
1/4 cup baking soda – 12¢
1/4 cup washing soda – 16¢
1/8 cup Thieves Household Cleaner (based on Young Living's wholesale prices) – $1.56
1/4 cup Thieves Laundry Soap (based on Young Living's wholesale prices) – $1.84
8 drops Thieves essential oil – $1.12
8 drops lemon essential oil – 40¢
Total cost to make: $5.20 per gallon
I use about 1/4 cup per regular load and 1/3 cup for very large loads. For an average load of laundry this comes out to about 8¢ per load!
Note* Wholesale pricing is available to members of Young Living, however, you also have the option to buy retail. If you want to learn more about how to become a member and order a starter kit, then check out this post! (there's a starter kit that includes a whole bottle of both the Thieves Laundry Soap and Thieves Household Cleaner!)
How To Make This DIY Laundry Detergent
What you need:
1/4 cup baking soda
1/4 cup washing soda
1/8 cup Thieves Household Cleaner
1/4 cup Thieves Laundry Soap – you can alternatively use castile soap but the laundry soap gives it an extra cleaning boost!
hot water
8 drops Thieves essential oil
8 drops lemon essential oil
1 Gallon Beverage Dispenser with metal spigot
Directions
1. Add the washing soda and baking soda to the beverage dispenser, then add in enough hot water to cover the powders by about an inch.
Make sure it's hot but not boiling water, if it is too hot, it could crack the glass. Stir the mixture until all the powder is dissolved.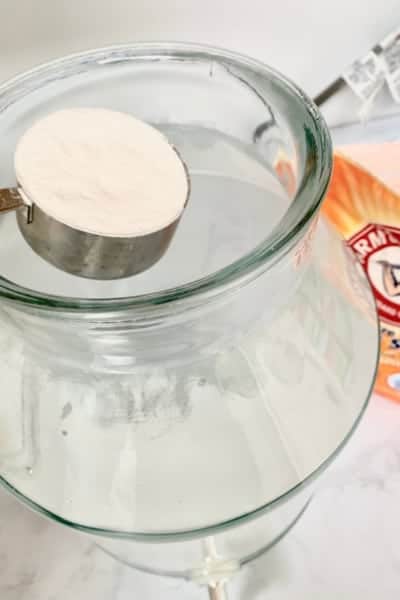 2. Now add in enough room temperature water to fill it up most of the way with a bit of room to spare. (don't worry about steam from the hot water, it will dissipate after it's all cooled)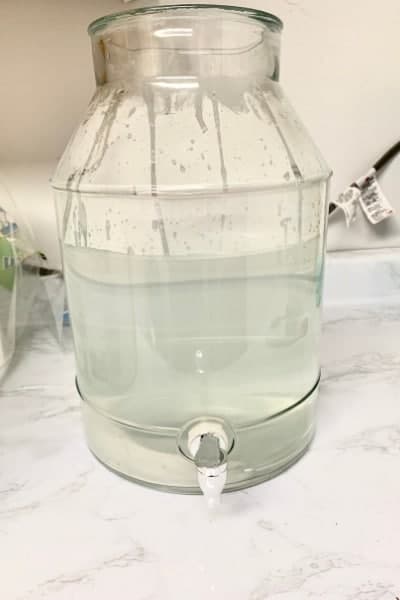 3. Next add in the Thieves household cleaner, laundry soap and essential oils and stir.
Your homemade non toxic laundry detergent is ready! Simply use 1/4 cup for regular loads and around 1/3 cup for extra large loads.
It is going to vary based on your washing machine so you may have to experiment with what is your perfect measurement.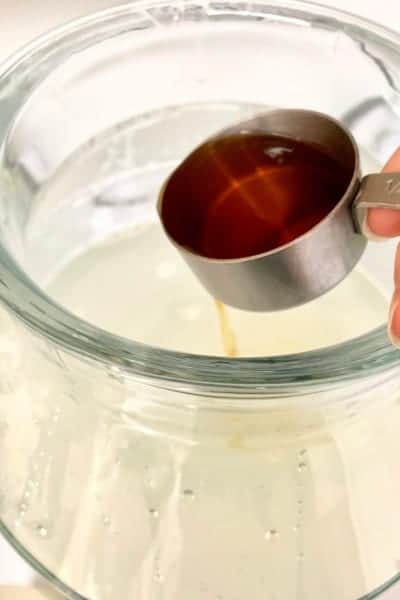 Note* I keep a wooden spoon nearby to stir it when I use it just to make sure it's all equally mixed through.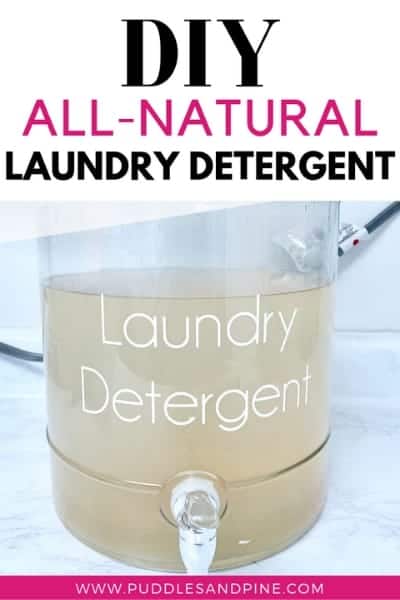 Related Natural Cleaning Articles:
Non-Toxic Homemade Bleach Alternative
DIY Chemical Free Cleaning Products
The Best Homemade Laundry Detergent Recipe