Are hum vitamins worth the hype? A review of Hum Nutrition vitamins.  
With so many vitamins and supplements out there, it can be hard to narrow down good vitamins for clear skin that actually do what they say or vitamins for healthy hair and nails that actually produce results.
Hum Nutrition claims that their beauty vitamins can do just that and more.
Check out my 100% honest review of Hum Nutrition beauty vitamins to see if they are the real thing or not.
This post contains affiliate links.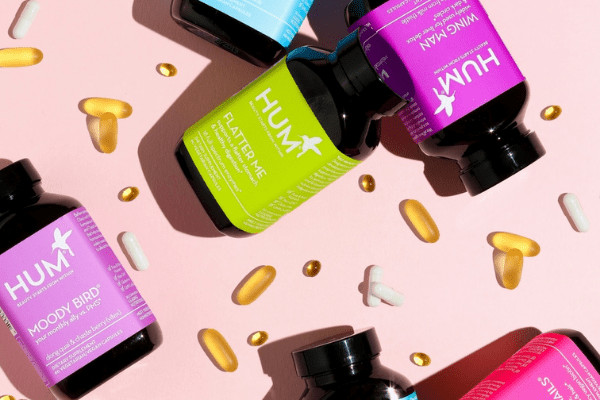 What Is The Point Of Supplements?
I've always been intrigued by vitamins and supplements, especially since I don't eat nearly as many fruits and veggies as I should.
Of course, you should get most of your vitamins from a healthy diet, but it can be hard to get every single nutrient that we need from our diet alone, which are often severely lacking in micronutrients and antioxidants.
Supplements are just that — a supplement to kind of help fill the gaps.
Because even if you're eating a very healthy diet, you could (and probably do) have deficiencies in certain vitamins and nutrients.
What Is Hum Nutrition?
Hum Nutrition is a company that creates various vitamins that help support your beauty goals.
Straight from the Hum Nutrition website, "During our R&D process, we collaborate with Registered Dietitians — the best Nutritionists in the field who have gone through intensive certification processes and many years of experience — as well as researchers at top universities. Together, we identify the micro-nutrients your body needs and the natural ingredients that can provide them".
All of their products are also Gluten and GMO free and their ingredients are sustainably sourced, which is awesome!
I regularly take a few supplements from other brands (you can read more about my most trusted vitamin brands here) but I'd heard a lot about Hum Nutrition's beauty supplements and I was intrigued because they've gotten rave reviews and are supposedly natural and user friendly.
The products are brightly colored and beautifully designed which makes it tempting to buy based on looks alone! But it's important to move past the pretty packaging and look inside the actual vitamins.
Do they actually work?
I tried three different supplements for about a month to find out and see for myself if they are worth the hype or not.
My customer review of Hum Vitamins 
To start off, when visiting Hum's website, I took a quiz to answer questions about my diet, health and problem areas I'd like to work on.
I was then paired with a registered nutritionist who recommended a few supplements based on my needs.
One thing I really loved about this process is that after receiving a product lineup from the nutritionist, they don't just disappear. You can always email your nutritionist with questions regarding the products you're taking, your regimen, or if your needs change.
Note* Keep in mind that these supplements are not miracle workers to make up for an unhealthy lifestyle. If you are eating processed food all the time and not drinking any water, you can't expect to have beautiful, glowing skin. It is important to use these in conjunction with a healthy lifestyle to get the best results.
The three vitamins I was recommended were:
Daily Cleanse-one of the brand's most popular supplements, which is a blend of herbs and amino acids that supposedly help clear your skin and body of toxins.
Red Carpet-a supplement that helps promote glowing skin and shiny hair with a blend of sunflower seed oil and black currant seed oil.
Here Comes The Sun- this is Hum's Vitamin D supplement that I know for a fact I need because here in Washington, pretty much everyone is Vitamin D deficient.
All three of these only need to be taken once daily with food, so I took them all together in the morning right before breakfast so I didn't forget.
One thing I immediately noticed and was very happy about was that none of them were tablets.
I personally don't like tablets and don't find that they are easily digestible so I almost exclusively look for either gel or capsule vitamins because these are broken down very easily inside the body and don't just pass right through.
Both Red Carpet and Here Comes The Sun are gel caps and Daily Cleanse is a capsule so I was happy to see that.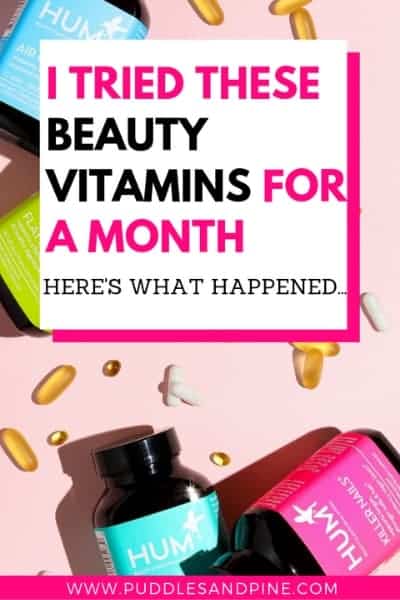 My results and review after taking HUM Vitamins for 4 weeks
They recommend you use the vitamins for 4-8 weeks before you expect to see any results and I have seen some results after just one month.
I did my best not to change too much about my diet just to make sure any changes would be from the vitamins themselves, I did make a point to drink more water though.
I have noticed much clearer skin, especially considering I usually experience hormonal breakouts pretty consistently but this month has been significantly better.
I've also noticed an improved skin tone and smoother texture, which I'm sure is helped by my upped water intake the past month as well, but I'm pleasantly surprised by how much it's improved.
I haven't noticed a lot of changes in my hair yet except maybe a little more shine, but I do blowdry and straighten it often so that may be working against me, I also may notice more changes in the coming weeks as well.
I've also noticed that my mood is improved, which I'm sure is helped by the vitamin D. I already knew I was severely deficient so I'm not really surprised by that result.
I think the biggest change I've noticed is my nails.
I have always had pretty weak, brittle nails that would chip very easily. I would start growing them out, only to have several break and split after they got just past my nail bed.
After this past month though, they have grown longer than I've ever been able to grow them at once!
I've actually had to trim them several times because they were getting too long and I was worried I would start snagging them and they'd chip again. They are also much smoother and whiter than before.
I can put a clear nail polish on and they look beautiful like I just had a professional manicure.
April 2022 Update:
I was very happy with my results after taking these vitamins and I have since reordered all three I tried.
I also have tried a few of their other HUM products, the Mighty Night Cell Renewal Supplement, the OMG! Omega 3 supplement and the Raw Beauty Green Superfood Powder.
I loved my results after starting the Mighty Night and OMG! omega 3 supplement, my skin felt smoother and I noticed my makeup looking better with my improved skin texture. I also sleep great with the added valerian root and passion flower in Mighty Night.
The Raw Beauty Superfood powder, I actually didn't like as much.
I ordered the vanilla berry flavor hoping it would taste great in a smoothie and unfortunately I just didn't like the taste.
I love the ingredient list because it includes antioxidants, probiotics and a healthy fruit and vegetable blend and have no doubt that it would be very beneficial….but I couldn't get past the grassy taste.
If that's not something that would bother you then by all means give it a try because it's packed with all kinds of nutrients.
But personally, this is one product I won't be reordering.

Should you start using HUM Vitamins?
I personally would recommend all three of these based on my results but keep in mind that what worked for me may not work for you.
For example, If you live in Florida you probably don't need extra vitamin D.
They have several other supplements that may be more beneficial for your needs like their probiotic or energy supplement (I'm definitely trying that one soon), I am planning on continuing with these supplements as well as some new ones next month.
What I signed up for, and is the best deal, is their subscription box.
If you choose any 3 supplements or more, they will take 25% off but if you sign up for any of their subscription plans they will take an additional percentage off.
For a 90 day plan they take off an extra 15%, 6 months they take off 20% and 12 months they take off 25%.
I signed up for the 90 day plan just to try it out but I will most likely be moving up to the 6 month or 12 month plan since it's more cost effective.
Please let me know if you try these and how you like them!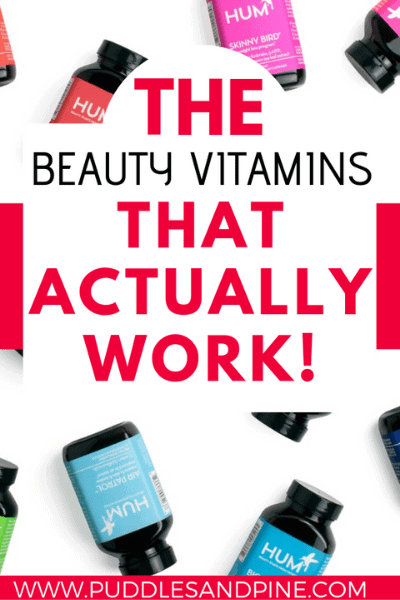 Related Articles:
Best All-Natural Vitamins And Supplements
Why You Should Be Eating Sourdough Bread
How To Have A Healthy Home And What Can Make It Unhealthy
An Honest Review Of Hum Nutrition Beauty Vitamins