The easiest way to meal plan without a ton of work! Learn how to meal plan on a budget.
Sometimes meal planning can be difficult and stressful. These meal prep ideas and strategies have helped me learn how to meal plan affordably and stress free.
Keep reading to learn how to meal plan on a budget, and more importantly, learn meal planning the easy way!
Why Meal Plan?
There is an abundance of reasons why meal planning can be beneficial.
My main reason for meal planning is that when I don't meal plan, we end up spending more money by grabbing take-out which also means that we eat less healthy.
I am also just a planner by nature so if I don't have my meals planned out ahead of time, I tend to panic when it gets close to dinnertime.
Here are just a few of the other main reasons why learning how to meal plan on a budget is one of the best things you can do for yourself.
This post may contain affiliate links, which means I receive a small commission at no extra cost to you, if you make a purchase using that link.
Save Money
This is a big one.
Meal planning can save you loads of money over time.
When you have a meal plan, you go to the store with a specific list of ingredients and it's much easier to stick to that list when you know that it will be feeding your family for every meal.
Before I started planning our meals I would just go to the store, wander through each aisle and just throw whatever looked yummy into my cart.
That wasn't so great for our food budget because I found out just how fast that budget disappears when I did our shopping that way.
No Food Waste
This one kind of goes hand in hand with saving money.
It's way too easy to buy produce because it's on sale and looks good when you don't actually have a plan for it, then let it go bad in the fridge for a couple weeks until you remember that it's there.
When you plan your meals out for the week, several weeks, a month, however you want to do it, you have a specific list of every ingredient you will need for all these meals.
There's no forgetting about perishable ingredients because you have a specific plan for each and every one of them.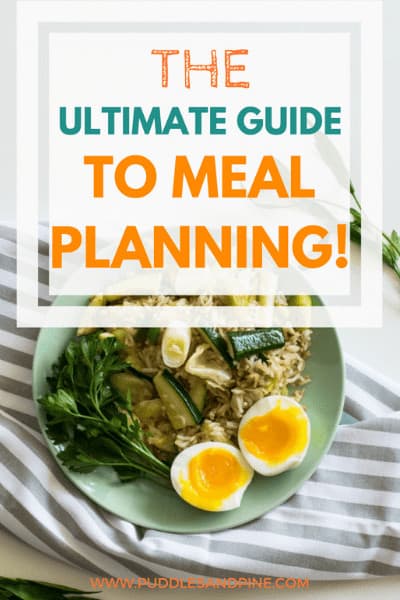 Stress Free
Meal planning is great because it takes away the stress of having to figure out your meals every single day!
I plan our meals on a weekly basis so I sit down for about 30 minutes, browse my recipes, write down what meals I want to make for the week, create a shopping list of anything we don't already have and then I'm done! I don't have to think about it anymore until next week.
I'm all about cutting out stress any way I can!
Eat Better Food
When you plan your meals ahead of time, you have more control over what kind of foods you eat.
If your family is on a special diet, it's easy to customize your meal plan to that and it reduces the chances that you will eat out which usually results in eating unhealthy food for the sake of convenience.
If you want to incorporate more fruits and veggies you can coordinate your meal plan with the seasonal produce that tends to go on sale in certain time of the year. That way you are saving money as well as eating more produce.
Different Methods Of Meal Planning
These are the main different methods of meal planning. They can all be 100% customized to special diets, food restrictions and preferences, depending on your family's needs.
Every family is going to meal plan a little bit differently, so take a look at these methods and see which one (or several!) fits your family best.
Freezer Meals
This is definitely one of my favorite methods that I use often.
Freezer meals are a lazy girl's best friend. You can be pretty diligent about meal planning but there are always those days when you just REALLY don't feel like cooking, or maybe you've had a rough day, or you've been sick and cooking a meal is just gonna be a hard no.
Enter in freezer meals!
If you have a stack of meals sitting in the freezer, all you gotta do is pop one of those babies in the crockpot or oven and you've got yourself a meal.
Freezer meals are also incredibly easy to prepare, you can make several weeks worth of freezer meals in one afternoon if you plan ahead.
This reduces your risk of choosing to eat out, which is usually expensive and unhealthy, and once it's done you can feel accomplished because it's technically a home cooked meal!
MyFreezEasy
If you have a pretty busy lifestyle and want to make freezer meals a regular part of your cooking plan, I highly recommend checking out MyFreezEasy.
This is hands down the most efficient way to make freezer meals on a regular basis and they make it super easy.
They offer meal plans that include printable downloads which contains recipes, shopping lists, assembly notes, assembly instructions, 1 new assembly video each month, and printable labels for your bags and trays.
The meal plans are created and packaged to make you spend as little time in the grocery store getting what you need, and as little time in the kitchen preparing the 10 meals for the freezer.
I love that they have videos to go along with the recipes just in case you are a visual person and you can choose all your own recipes and serving sizes!
I absolutely love this method and it cuts down so much time so you don't have to worry about making dinner every single night.
If this sounds like it's right up your alley then you can join MyFreezeEasy here!
Plus as a bonus, if you sign up for their free Freezer Cooking 101 Workshop, they will send you a free freezer meal plan so you can try it out first! You can sign up for the free workshop here.

Monthly Meal Plans
Monthly meal plans are great for those that are very strict planners and want to get ahead of the game.
There are several different methods for monthly meal planning, but you generally print out a calendar of the next 4 weeks and write in the meals you have planned for each day.
You can either do a large bulk shopping trip for your ingredients (this is a great time for a Costco or Sam's Club trip) or you can break up your shopping trips into 4, one for each week.
I highly recommend getting any non-perishable ingredients in bulk for your recipes and saving the perishable ingredients for the weekly shopping trips.
I have tried meal planning monthly and there were definitely pros and cons to it.
I really liked that for 4 weeks, I didn't have to sit down and search through my cookbooks or Pinterest for good recipes because I had them all laid out already.
I also liked being able to plan for leftovers of any big meals I made, like a large roasted turkey can be eaten for several days as leftovers and then the next week I can use the bones and any leftover frozen meat in a soup that can also be eaten for several days.
One thing I didn't like was that, depending on your lifestyle, it can be hard to plan a whole month in advance.
Sometimes things come up that throw a wrench in your dinner plans and you have to adjust your plan to accommodate maybe some extra dinner guests or a last minute outing or appointment.
This might not bother some people but I found myself having to adjust my plan fairly often because of last minute changes.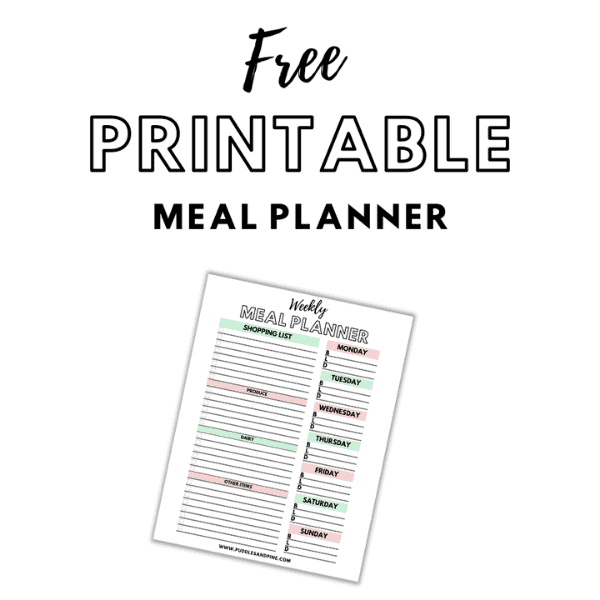 Weekly Meal Plans
This is probably the most common method of meal planning and also my most used method as well, in conjunction with freezer meals.
There are different variations of weekly meal planning, usually fully scheduled or loosely scheduled, depending on your preference.
If you like to go with the flow and make things easier for your family to remember, you can establish a themed day of the week like Meatless Monday, Taco Tuesday, Italian Wednesday, Leftovers Thursday etc. or you can fully schedule your meals based on what's on sale and what sounds good for that week.
Weekly meal planning usually entails sitting down for about a half hour or so to choose your recipes for each day of the week and writing out a shopping list for your ingredients.
I like doing it this way because I generally know what our plans will be for the next week so it's easy to plan for a night when we won't be home or may have extra people to cook for.
$5 Meal Plan
If you are like me and have a really hard time choosing recipes or your family gets bored of your normal rotation of usual recipes, then a GREAT resource is the $5 Meal Plan.
I absolutely love this because it takes all the work out of meal planning and literally all you have to do is follow the shopping list and put the meals together.
It is a service that provides you with weekly meal plans that includes five dinner entrees with sides (each week includes one freezer friendly, one slow cooker, and one 20-minute).
They also include one lunch and one breakfast, plus, a random fun goodie each week – sometimes it'll be a dessert, sometimes a beverage, and sometimes it'll be a snack (sometimes more than one!).
All that for only $5 a month!
The best part? Every meal will only cost about $2 per person, sometimes less if you are savvy about shopping sales or couponing.
How it works is you have the option to use their pre-made meal plan or you can use their drag and drop meal plan customizer, which is awesome because you can search through recipes by ingredients, dietary restrictions or cooking method.
You then receive your meal plan every Friday that includes your menu and shopping list!
I absolutely love this service and with the amount of time and money it saves, at $5 a month it's a steal.
You can sign up for a 14 day free trial of the $5 Dollar Meal Plan here!
Batch Cooking
This method can go hand in hand with any type of meal planning, it's simply doubling your recipe and freezing half so you have a whole other meal to stick in the freezer for later.
This is awesome for certain recipes like casseroles and crock pot meals that are easy to double and require no extra work but makes twice as much food.
I try to do this whenever I can remember, the hardest part being trying to remember to buy extra ingredients and actually plan for it.
When I was pregnant with our second little one, I built up a large stockpile of freezer meals using this method with no extra work!
Slow Cooker Meals
God bless whoever invented the slow cooker!
This is my number one favorite way to cook anything because it's so hands off.
I am so lazy when it comes to cooking that I even have the slow cooker that sears, bakes, steams and saute's along with slow cooking, it's especially helpful when making dishes like chili where you need to brown the meat first, meaning I can just use the same pot for everything instead of sauteing on the stove first.
I'm all about making cooking as easy and effortless as possible.
This isn't a specific meal planning method exactly, more like a way to make your meal planning easier.
I have made a whole week's worth of slow cooker meals just because they are the easiest to do, and they make awesome freezer meals.
The only thing is you do need to plan ahead for slow cooker meals because, as the name implies, they cook slowly. You can dump in your ingredients in the morning and have your meal ready by dinnertime and it's glorious.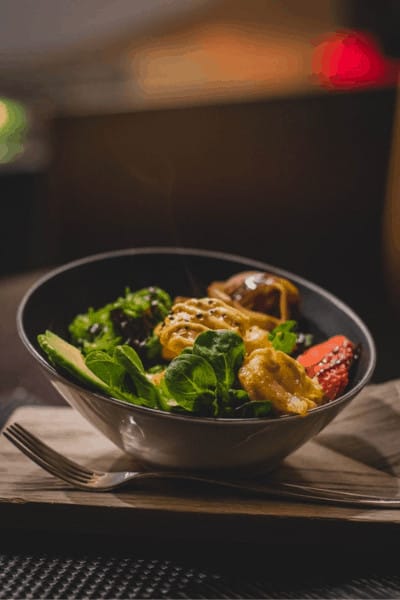 5 Tips On How To Meal Plan On A Budget
Shop Sales/In Season
A great way to save more money when meal planning is to be aware of seasonal foods that go on sale in different times of year and making sure you customize your meals around those foods.
For example, when summer comes around the corner there are going to be sales on all the classic seasonal summer produce.
Things like berries, watermelon, corn on the cob, cherries, peaches, summer squash and zucchini are all gonna be at their cheapest in the height of summer.
So by incorporating those into your meals, you will be able to save a bit more while also satisfying any cravings for food not otherwise easy to find in other seasons!
Check Pinterest
It's no secret that Pinterest is an absolutely amazing resource for recipes.
I actually use Pinterest more often than my cookbooks, especially when my family starts to get bored of some of my regular recipes.
Pinterest may seem like a social media platform but it's actually a search engine.
If you search "easy crock pot chicken recipes" into Pinterest, you will gets LOADS of results to the point where it can actually be overwhelming, but you will never run out of ideas!
I love to utilize Pinterest especially when I want to try something new and I'll just browse until something catches my eye (usually a dessert!).
Shop Your Fridge/Pantry
This is definitely one of the best ways to save money when meal planning.
No doubt, most of us have some forgotten ingredients in the back of the cupboard or pantry that we bought for something a long time ago and never actually used.
I can almost always find a can of black beans or green beans or diced tomatoes in the back of my cupboard (until you actually need it for something, than there's not a single one to be found) so before I make my meal plan or head to the store, I will always shop my fridge and cupboards first.
If I find that can of diced tomatoes and black beans and also find some ground beef in the freezer, it sounds like I can make chili with just a couple more ingredients.
You'd be surprised how many meals you could make with what you already have and most of the time you will only need one or two other ingredients to make a whole meal!
Food Prep
Food prep can be a huge time saver if you do it right. Sometimes, after making dinner but before cleaning the kitchen, I will take a look at the next days meals and see what needs to be prepped before cooking.
It can be anything from chopping up veggies to marinating chicken, but when you are already in a messy kitchen and going to be doing dishes anyways, I just find it easier to do it all at once.
That way, the next day when it comes time to prepare your meal, everything is already done and you can just throw it all together and start cooking!
I recently bought this food storage set and I absolutely love it. It works perfect for organizing any chopped veggies and the largest container is my go to for marinating any kind of meat.
Plus, it just looks pretty in my fridge!
Another good reason to do this the night before or even that morning, is so that you can be sure you haven't forgotten anything.
It's the worst when you start preparing a meal only to discover you forgot an ingredient or didn't buy enough of something, then you have to go to the store really fast or start completely from scratch.
My husband hates this too, because he's usually the one that gets sent to the store for the missing ingredient!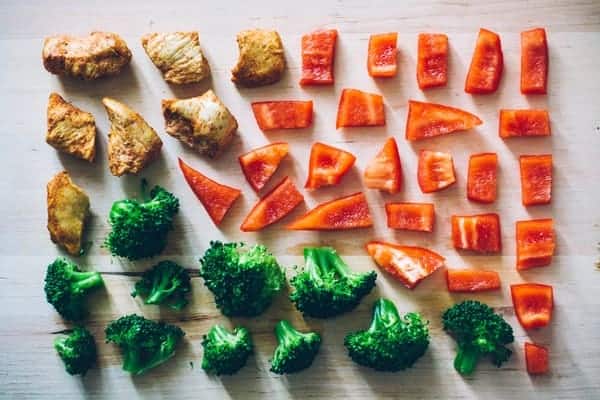 Create A Recipe Book
Most people have a collection of their favorite recipes somewhere, like maybe a recipe box handed down from a family member or a favorite cookbook, or even a board or two on Pinterest.
I had all of the above but never had all my favorites in one place, so when I would sit down to meal plan, I would have to grab my recipe box, several books and my computer just to find all my recipes. Then, after years of doing this, I finally decided to consolidate everything into one place.
I bought an adorable recipe book filled with blank cards and I spent about 2 weeks just filling in all the cards with my favorite recipes anytime I had some time to myself.
Now whenever I want to look for a recipe, I just have to grab my book!
Put Your Own Spin On Meal Planning!
No matter which method you choose, make meal planning your own!
You can choose one method or several and just cater to your own family's needs.
Not every week has to be the same, maybe one week, you do a weekly meal plan and the next week you do a bunch of freezer meals.
Learning how to meal plan on a budget takes a bit of a learning curve. But once you find your method, you'll never go back!
Everyone has busy lives and sometimes you have to go with the flow, but having a plan for your meals will not only help you save money but it will help save your sanity too.
Related Articles:
How To Save Money On Groceries Every Month
The 4 Best Grocery Delivery Services To Save Time And Money
The 4 Best Apps To Earn Extra Cash While Shopping!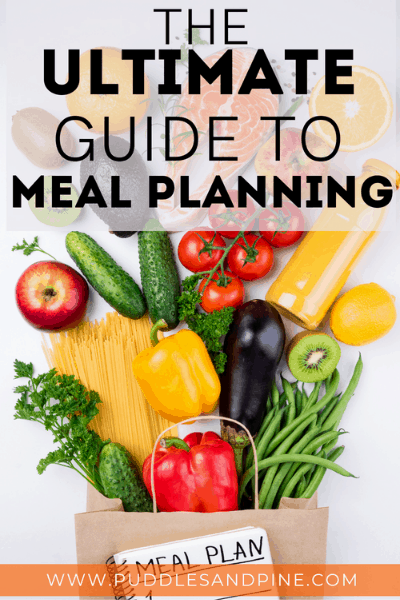 How To Meal Plan On A Budget (Easy Meal Planning!)