An all natural non toxic Homemade bleach recipe for your clothes
This all natural non toxic DIY bleach works so incredibly well, I will never go back to traditional bleach!
I never thought you could efficiently whiten laundry without chemicals, I just accepted that it would always take harsh ingredients to get the job done.
Keep reading to learn how to make this natural bleach with essential oils!
This post contains affiliate links.
Bleach To Whiten Laundry
After my husband and I bought our first home, I decided I wanted white everything.
White just looks so bright and fresh and clean, I wanted a white duvet cover, white towels, white throw pillows, white shower curtain…you get the idea.
Of course my husband brought up the subject of keeping all that white stuff clean, especially considering we have a big black dog and at the time I was pregnant with our first little guy. I just told him I could bleach it if it got too dirty and that was the reason I chose it, because it's easy just to throw all my white stuff in the washer with a cup of bleach and have it all come and sparkling bright white again.
Shortly after that was when I decided to start replacing most of our household products with healthier, non-toxic alternatives and I got to the point where I had replaced everything that had harmful chemicals in it…except bleach.
I had a really hard time letting go of bleach because what about all my whites?! How was I going to get them stark white without bleach?
I even kept using it after my hands would get itchy and irritated after coming into contact with the bleach (I cringe just to think about that).
Detergent alone just didn't make them white enough and after we moved into our current home and I unpacked our white duvet cover, sheets and shower curtain, they were all pretty yellowed from sitting in storage for several months.
I decided to try some homemade bleach alternative recipes, I tried soaking the duvet and sheets in the sink with washing soda and hydrogen peroxide, which helped a little bit.
It turned it from obviously yellow to more of a cream, but still not completely white.
Then I tried this mixture of water, hydrogen peroxide, thieves cleaner and lemon oil and I was totally blown away…
My whites came out white, like as white as they did with bleach and they didn't smell bad like before either.
They smelled like lavender because that's what I used on my wool dryer balls (have you ever slept on sheets that smell like lavender? Try it. Seriously) – and not like bleach.
I made a big batch to keep in the laundry room because I plan on using this stuff over and over again.
Homemade Natural Bleach Alternative Results
This is a photo of a fitted sheet before I put it in the wash: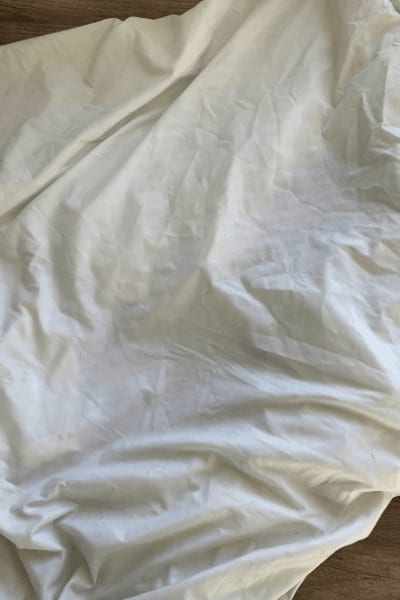 And here is that same sheet in the same spot and same lighting as the first sheet after coming out of the dryer: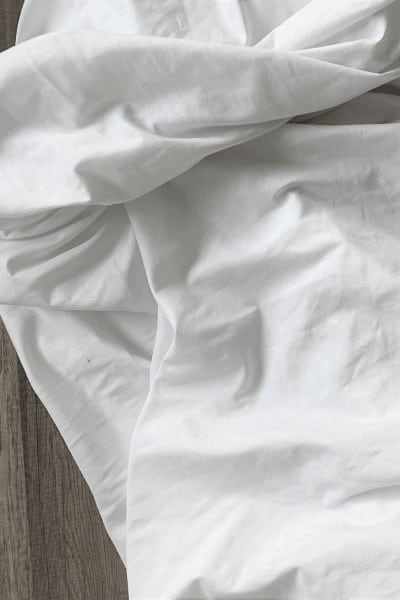 Trust me when I say that the difference is even more significant in person.
I absolutely love this stuff because my white linens look so fresh and new again and I know I'm not sleeping on anything that's going to irritate my skin or my babies skin.
So let's get into how to make it!
Homemade Bleach Alternative Recipe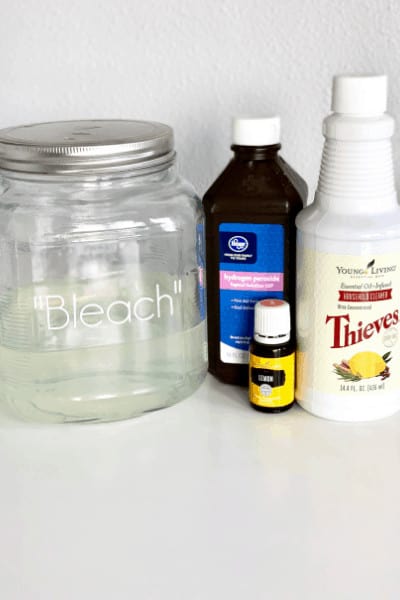 You will need:
3 cups water
1/2 cup hydrogen peroxide
2 capfuls Thieves Household All-Purpose Cleaner
10 drops lemon oil
Simply add everything together in a large jar (feel free to double the recipe).
NOTE: It has been brought to my attention that it would be best to use an opaque jar because of the hydrogen peroxide in the recipe. Thanks for the tip! 
To Use:
Add 1/2 cup of the "bleach" to the compartment where you would normally add bleach. Where it is varies with different washing machines.
Related Cleaning Articles:
DIY All Natural Non Toxic Laundry Detergent
All Natural DIY Cleaning Recipes
DIY Non Toxic Foaming Hand Soap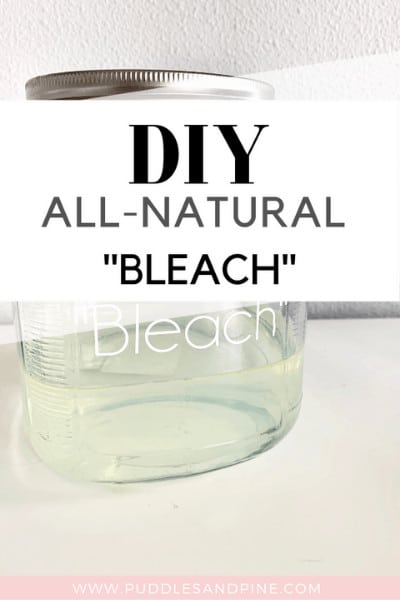 Non-Toxic Homemade Bleach Alternative Recipe